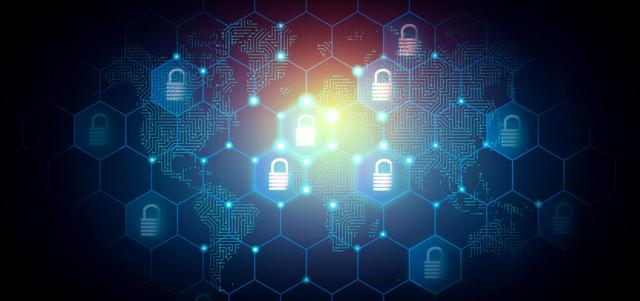 Image author: Jack Moreh. Source: Freerangestock Free Commercial Images
Please skip this intro if you have read my previous articles.
"It's far better to buy a wonderful company at a fair price than a fair company at a wonderful price."

"Whether we're talking about socks or stocks, I like buying quality merchandise when it is marked down." - Warren Buffett
What is a wonderful company, and what is 'quality merchandise' from an investing standpoint? The most constructive definition to address this question is Warren Buffett's concept of "economic moat", a long-lasting competitive advantage that allows a given company to harvest above-average returns on its capital, even when faced with economic downturns or powerful competitors.
A quality investing strategy should, therefore, capture the fundamental nature of Buffett's philosophy. Here, the aim is to identify high-quality stocks - or "compounders" - trading at reasonable prices by calculating a simple Quality Score based on 12 fundamental factors related to the actual business and its intrinsic economic characteristics. These are (possibly) the qualitative and quantitative factors that best capture the elusive quality dimension of a specific company, at least according to Buffett and to other investors in these best-of-breed companies like Charlie Munger, Chuck Akre, and Joel Greenblatt. The intention is not to discuss fleeting quarterly results (far from it) but rather to find and analyze superior companies and business models capable of compounding value for many years into the future. To calculate the Quality Score, we'll try to answer questions addressing the following aspects:
1) Presence of strong and enduring competitive advantages; 2) Favorable market dynamics and relative positioning; 3) Presence of multiple and complementary cash flow generators; 4) Resilience to technological disruption and to obsolescence; 5) Presence of abundant and recurrent sales with low cyclicality; 6) Presence of market leadership; 7) Presence of pricing power; 8) Presence of high and persistent Returns on Invested Capital; 9) Strong cash-generation ability; 10) Presence of superior gross profitability, as measured by Gross Profits to Total Assets; 11) Presence of superior revenue growth, with improving sales momentum; 12) Presence of solid risk management policies; 13) Strong financial position, with little debt.
To calculate the Quality Score, one (1) point is awarded when the answer is fundamentally positive ("Yes"); minus one (-1) point is subtracted when the answer is essentially negative ("No"); no points are added or subtracted (0) when there is too much uncertainty, or when negative and positive factors are essentially in equilibrium. "Quality companies" are the ones with a Quality Score of "6" or above. Let us then calculate the Quality Score for Allegion PLC (ALLE).
1. Does the Company have strong and durable competitive advantages over competitors? Yes: 1 Point
A spin-off from Ingersoll-Rand (NYSE:IR), Allegion produces and markets a portfolio of electronic and mechanical locks, doors, door frames, exit devices, fire-rated glass, and other security products and solutions for both the commercial and the residential real estate markets. The company's main competitors are Sweden-based Assa Abloy (OTCPK:ASAZF) and Swiss-based Dormakaba (OTC:DRRKF). Other competitors include Spectrum Brands (NYSE:SPB), Fortune Brands (NYSE:FBHS), Stanley Black & Decker (NYSE:SWK) and ADT (NYSE:ADT). Allegion's competitive advantages stem from the following factors:
Strong brands based on innovation, quality, and intellectual property: Because they have a long-standing reputation for security accumulated over many decades, Allegion's brands benefit from an ongoing narrative of reliability, performance, and innovation not usually associated with other construction hardware. Manufacturers in this industry must also have the know-how to meet rigorous and very specific building code standards - the role security products play in guaranteeing life safety and security within the built environment (such as exit devices in the event of a fire) makes it crucial that they are specified and properly installed every single time. As a consequence, the company retains a wealth of intellectual property that protects it both from new entrants and from less specialized competitors. Allegion's brands have roots in businesses from as early as the 18th century, and several of them have since created their respective product categories; in a certain way, the company's offerings seem to profit from the same age-old narrative enjoyed by the more well-established gun manufacturers: to defend yourself, you would always pick a Glock, a Beretta or a Smith & Wesson over an obscure brand, and similarly you'd always pick a Schlage or a Von Duprin over virtually any other lock or door exit device. From the customer's standpoint, acquiring anything but the best would be 'like taking the low bid on a surgical procedure' (Warren Buffett).
Wide distribution network: Allegion has made the construction industry its friendly intermediary by establishing deep relationships with homebuilders, contractors, locksmiths, and architects: as with end customers, these players seek tried-and-tested products and solutions; but, unlike end customers, the Company's partners are largely insensitive to price, a fact that positions Allegion to profitably exploit the gap between decision-makers and customers. Allegion also enjoys a very strong presence in large retailers and specialty stores in Europe and in America, as well as in e-tailers like Amazon (AMZN). Such a wide network of partners and distributors cannot be easily replicated by the smaller firms competing within this very fragmented industry.
Low cost/High benefit: This competitive advantage arises when acquisition costs are comparatively low, but the extracted benefits (actual or perceived) are substantial, creating a value disconnect that makes price largely immaterial for the end customer. For instance, in the commercial market, door hardware represents only a small percentage of the overall cost of the building, but - without the expertise to conceive and install it – it can often be a substantial source of problems during and after the construction phase. Installing premium products also benefits residential buildings as it increases the perception of quality. Compared to Allegion's, there are more inexpensive products in the market, but the price differential does not justify the risk of installing inferior options.
High switching costs and a large installed base: Arising from highly customized offerings that keep customers captive within the company's ecosystem of products and solutions, switching costs are much higher in the commercial market. Coupled with its know-how, reputation and switching costs, Allegion's large installed base is a source of recurring revenue arising from aftermarket services and replacement sales.
2. Is the company present in attractive markets offering a clear growth runway? Yes: 1 Point
Allegion competes in several promising markets. The global security solutions market is expected to reach USD 373 billion by 2022 and is projected to expand at a CAGR of 10.2% from 2017. Some factors underlying this growth are the increased adoption of IoT-based security systems and rising demand for the installation of wireless technology. Propelled by sustainable construction techniques, investments in customized solutions and urbanization, a subset of this large market – the doors market – is projected to reach a value of about USD 104 billion by 2022 after growing at a CAGR of 4.9% from 2017. Aging populations will also boost the door and window automation market, which is expected to reach USD 17.8 billion by 2022 at a CAGR of 6.2% from 2016. There are however smaller subsets growing at a very rapid pace, like the intelligent home security market (which is forecasted to swell at a CAGR of 26% through 2023), the electronic home locks market (which is anticipated to grow at a CAGR of 16.4% through 2022), and the smart lock market (which is likely to grow at a CAGR of over 13% per year until 2023). Growth in such markets will be driven by urbanization in large economies, rising disposable income (notably in the Asia-Pacific region), widespread adoption of smartphones and other connected devices, and the deployment of wireless technology in security systems. Considering this seemingly auspicious backdrop, Allegion can take advantage of an attractive set of specific growth opportunities that include:
Industry Consolidation: Until recently, closed and proprietary systems have kept the security solutions market from coalescing, but the trend towards open systems will probably prompt more consolidation. Of course, acquisitions rarely create value for shareholders. However, there are a few circumstances in which acquisitions make sense. One such circumstance is the consolidation of attractive but very fragmented industries through small bolt-on acquisitions. Taking advantage of its domineering market position, that's precisely what Allegion intends to achieve going forward. Until now, access control has been the playing field of local locksmiths, small companies and electronic card manufacturers, as well as of software providers for physical access control systems. Through acquisitions, this fragmented landscape creates many opportunities to implement economies of scale and distribution, to reinforce the firm's geographic footprint and to expand Allegion's portfolio. Moreover, given the specialized niche and transaction size, there is not unbridled competition in the market, a fact that enables Allegion to buy companies on more favorable terms (in general terms). The company can then absorb new technology and systematically improve the acquired company's operations in order to expand margins and ramp-up production. Executing on this strategy, Allegion completed a series of recent acquisitions, which have included Technical Glass Products (a leading manufacturer of fire-rated entrance and wall systems for institutions and non-residential buildings), as well as AD Systems (a firm that manufactures high-performance interior and healthcare door systems) and ISONAS (a security products and solutions provider that commercializes edge-computing technology offering innovative access control solutions for non-residential markets). However, there are a couple of caveats concerning Allegion's course of action: on the one hand, the largest independent brands know that Allegion needs to make acquisitions to grow and stay competitive; on the other hand, the company's largest competitor Assa Abloy is also pursuing the same overall strategy. These facts will probably push up acquisition prices and increase the attrition between the major players. Nevertheless, with most of the global market still up for grabs, there's ample space for Allegion, Assa, and Dormakaba to stay both acquisitive and profitable.
Technological Convergence: The industry is also seeing a convergence of electronics and mechanical security solutions that will probably propel robust growth. In the past, the high cost of electromechanical solutions impelled customers to curb costs by using them only at strategic access points where the strictest level of security was needed. At the present, customized electronic systems are becoming affordable enough to install throughout a property, even at interior doors where security is usually a minor consideration. But electronics often make sense at many of these accesses because they can offer data on who used the access, and when. Married to the take-off of IoT (Internet of Things), the relentless evolution of these solutions has also led to other tangible benefits for the end customer: for instance, new access control systems have been developed to provide scheduled access, remote lockdown, 'intelligent' admission and real-time monitoring of foot traffic, as well as to provide information and alerts that can be tracked and reviewed to improve internal processes. Allegion is well positioned to profit from increased retrofit and upgrade spending on these new electromechanical access control solutions due to heightened security concerns globally. Furthermore, in conjunction with the need to install highly customized door access controls, the deployment of wireless technology in security systems and the continuous embracing of ACaaS (Access Control as a Service) and mobile access control will probably reinforce switching costs and create new sources of recurring revenue for Allegion and its peers. Technological convergence will also generate opportunities to upsell advanced identity systems - including biometrics and video - with access control to help customers reduce the expenses and the vulnerabilities associated with multiple databases for logical and physical security.
Healthy construction activity: Construction spending is projected to surpass USD 1.42 trillion in 2021. According to the American Institute of Architects, construction spending for nonresidential buildings is expected to increase by 4% in 2018 and continue at that pace of growth through 2019. Allegion should also profit from strong residential construction activity fueled by a growing economy, a high savings rate and low unemployment and mortgage rates. Also, as a growing number of them get married and form families, millennials are finally buying homes at rates similar to their parents, with the number of total housing starts expected to accelerate through 2021.
3.
Is the company diversified, with multiple and complementary cash flow generators? Neutral: 0 Points
With its hundreds of brands catering to numerous needs and niches, on this front, Assa Abloy has clearly the upper hand over both Dormakaba and Allegion (which has tens of brands). To stay competitive, Allegion has to offer more integration between its brands in Asia and in Europe, and the company must also fortify its vertical integration to gain scale in order to compete with Assa Abloy on a larger stage. The European arena is very much controlled by Dormakaba and Assa Abloy; Allegion dominates in America, though, and is still overly dependent on this market (it accounts for over 70% of its sales and close to 90% of its operating income). In Europe, the acquisition of SimonsVoss (2015) will probably enable the company to create a more varied product range and form stronger distribution channels. However, besides a more diverse portfolio, Assa Abloy also has a more balanced geographic footprint.
4. Is the company resilient and easily adaptable to technological disruption? No: -1 Point
Currently, Allegion and its competitors have to integrate a complex variety of technologies and skill-sets to develop its products and solutions. The products have to be mounted on a door, for instance, but they must also connect up to a mobile app in the cloud and communicate effectively and intelligently with other devices. This requires a seamless combination of electric, mechanical, firmware, and software components. At the present, the innovation cycle normally comprises advancements from the mechanical to the electromechanical, followed by automation, and then connectedness to the outside sphere via wireless technologies. In the future, the offerings will probably employ virtual and augmented reality, as well as machine learning and artificial intelligence: products that were simple, stand-alone entities will start to act as multifaceted, interacting and truly autonomous systems. No longer mere capital-goods manufacturers, Allegion and its rivals have transformed themselves into de facto high-tech companies; to stay at the forefront of their markets, they must now cope with shorter product cycles, larger R&D outlays, and increased sensitivity to technological disruption.
5. Is the company reliant on a large number of recurrent sales? Neutral: 0 Points
Like its peers, Allegion offers ongoing aftermarket services in addition to design and installation offerings. The growing adoption of ACaaS (Access Control as a Service) will probably become a more sizable source of recurring revenue going forward. ACaaS applies Software as a Service (SaaS) technology and is therefore cloud-based: while all the access control hardware stays onsite, software and servers are removed from the customer's premises. This technology will certainly become more prevalent in the future because it offers many advantages when compared to traditional systems (requires limited upfront costs, has lower maintenance costs, it is highly customizable, secure and scalable, and offers 24/7 remote support, for example). Companies with multiple locations are also seeking cloud-based solutions in order to centralize operations and reduce costs. Providers of ACaaS usually charge a monthly fee on a per-user or per-door basis. The global market for ACaaS is expected to reach approximately USD 630 million by 2020; however, the potential of ACaaS still needs to materialize and Allegion will surely face serious competition arising both from its own industry and from other industries: companies like Honeywell (NYSE:HON), Johnson Controls (NYSE:JCI), Cisco (NASDAQ:CSCO), Bosch (OTC:BSWQY), Schneider (OTCPK:SBGSF), and Siemens (OTCPK:SIEGY) are all vying for this nascent market. The company's large installed base is also a source of recurring revenue arising from replacement sales. Nevertheless, for now, most of Allegion's sales are neither recurrent nor have a small unit cost.
6. Is the company dominant within its markets? Yes: 1 Point
In the Americas, Allegion boasts a leading position in exit devices, door controls, and locks. The company owns the largest brand name in the world in Schlage (locks and access controls), as well as other leading brands such as Von Duprin (door exit devices), CISA (electronic locks, panic bars, door closers, safes and padlocks), SimonsVoss (integrated access controls), Interflex (cards, CCTV video surveillance and biometrics) and LCN (door closers and controls). In North America specifically, LCN, Schlage, and Von Duprin dominate their corresponding categories, while Interflex and CISA hold leading share in several markets in Europe. SimonsVoss is also one of the leaders within the global electronic access control marketplace. In fact, Allegion has been gaining share across several markets, and management expects this trend to continue in the foreseeable future. If current consolidation trends continue, the global market will probably become a quasi-oligopoly shared between Assa Abloy (the largest company within this market, by far), Dormakaba and Allegion.
7. Does the company exhibit a high degree of pricing power? Yes: 1 Point
"The ability to raise prices – the ability to differentiate yourself in a real way, and a real way means you can charge a different price – that makes a great business." (Warren Buffett on pricing power)
img src="https://static.seekingalpha.com/uploads/2018/7/11/7153301-1531318188433135.png" data-width="640" data-height="319" data-og-image-twitter_small_card="true" data-og-image-twitter_large_card="true" data-og-image-twitter_image_post="true" data-og-image-msn="true" data-og-image-facebook="true" data-og-image-google_news="true" data-og-image-google_plus="true" data-og-image-linkdin="true"">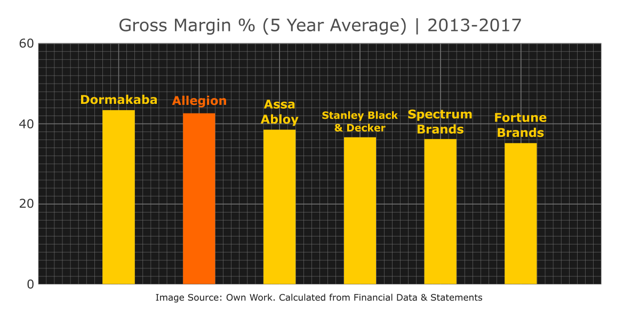 >
The company's gross and operating margins, returns on capital, and sales trajectory all seem to consubstantiate the thesis that Allegion has, in fact, a high degree of pricing power. Remarkably, Allegion's industry-leading margins actually improved throughout the Financial Crisis (still as part of Ingersoll-Rand), a result that clearly demonstrates the company's resilience and pricing power. Allegion also has industry-leading returns on capital (see below) and is a market share gainer; furthermore, the company's margins will probably benefit from improved operating leverage arising from larger volumes, as well as from the ongoing shift to electromechanical products. All things considered, the available evidence points to the fact that the company is a price maker rather than a price taker.
8. Has the company maintained high average ROICs (>15%) over the last 5 years? Yes: 1 Point
Over time, a business will produce investment results convergent to its long-term internal returns on capital. Being so – and all else being equal - the best businesses are obviously the ones that are able to allocate capital at high rates of return. Of course, as potential investors in a given company, we are more concerned with future returns than with past returns; however, analyzing a company's historical ROIC can provide us with valuable information when the operating and financial context is also taken into account.
img src="https://static.seekingalpha.com/uploads/2018/7/11/7153301-15313181892447932.png" data-width="640" data-height="296" data-og-image-twitter_small_card="true" data-og-image-twitter_large_card="true" data-og-image-twitter_image_post="true" data-og-image-msn="true" data-og-image-facebook="false" data-og-image-google_news="true" data-og-image-google_plus="true" data-og-image-linkdin="true"">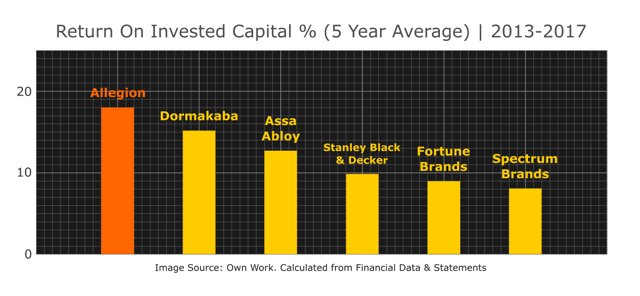 >
Concerning Allegion explicitly, capital allocation has been in fact accretive to long-term value creation as the firm's ROIC has averaged a respectable 18% over the past six years of operations as an independent company. Such returns reflect Allegion's efficiency at transforming its capital into profits, which is "the primary test of managerial economic performance" (Warren Buffett, 1979), as opposed to the mere achievement of consistent gains in earnings per share.
9. Is the company a cash-generative business? Yes: 1 Point
"We prefer businesses that drown in cash", Warren Buffett also said. Naturally, companies that generate plentiful cash - and that possess the capacity to compound it for many years into the future - are more valuable than the average.
Free Cash Flow to Sales: Allegion's current FCF/Sales ratio is 12.7%, a figure that translates a healthy conversion of sales into free cash flow; on average, this number has been around the 11.6% mark in the last six years of activity. From a Quality Investing standpoint, the minimum threshold is 5%. Both Assa and Dormakaba exhibit worse (but still healthy) ratios.
Cash Conversion Rate: Allegion's CCR - as measured by Free Cash Flow/Net Income - averaged 210% from 2012 to 2017. This is a stunning conversion rate by any measure (anything above 100% is significant), but the result has been distorted by an outlier corresponding to a CCR of 631% in 2013; either way, Allegion's CCR has comfortably breached the 100% mark every year since the spin-off. Here, too, Allegion tops its peer group.
Cash Conversion Cycle: Within its peer group, Allegion is also the best at converting resource inputs into cash flow (when establishing comparisons between firms, the company with the lowest CCC is often the one with better internal processes). On average, during the last six years of activity, Allegion only took 41 days to convert inputs into cash, whereas Assa required 81 days and Dormakaba required 124 days.
Positive Free Cash Flow Generation: Allegion has always been Free Cash Flow-positive, with FCF increasing by over 36% since 2011 when the current TTM figures are considered (from USD 240 to 328 million). Year-on-year, Allegion grew revenues by 7.6% from USD 2.24 to 2.41 billion; the company has also reduced COGS as a percent of SG&A, a fact that contributed to 19.3% net income growth from USD 229 to 273 million.
CapEx/Operating Cash Flow: As attested by this ratio, Allegion does not have to reinvest a large chunk of the cash generated by its revenues just to keep on operating. The company is rather capital-light despite being within the industrial sector: on average, during the last five years CapEx consumed only 13.6% of Allegion's OCF. With 5-year CapEx/OCF ratios averaging 20% and 29%, respectively, both Assa Abloy and Dormakaba are not as capital-light as the American company.
Profitability Matrix: A profitability matrix displays the returns on capital relative to the amount of free cash flow extracted from sales; companies at the upper right-hand corner (please see graph) generate more cash from sales and also have the capacity to earn a high return on it. As shown, Allegion generates higher amounts of cash and higher economic profits per dollar of capital employed than its competitors, which means that the firm has more excess profits to reinvest productively.
img src="https://static.seekingalpha.com/uploads/2018/7/11/7153301-15313181902733936.png" data-width="640" data-height="640" data-og-image-twitter_small_card="true" data-og-image-twitter_large_card="true" data-og-image-twitter_image_post="true" data-og-image-msn="true" data-og-image-facebook="true" data-og-image-google_news="true" data-og-image-google_plus="true" data-og-image-linkdin="true"">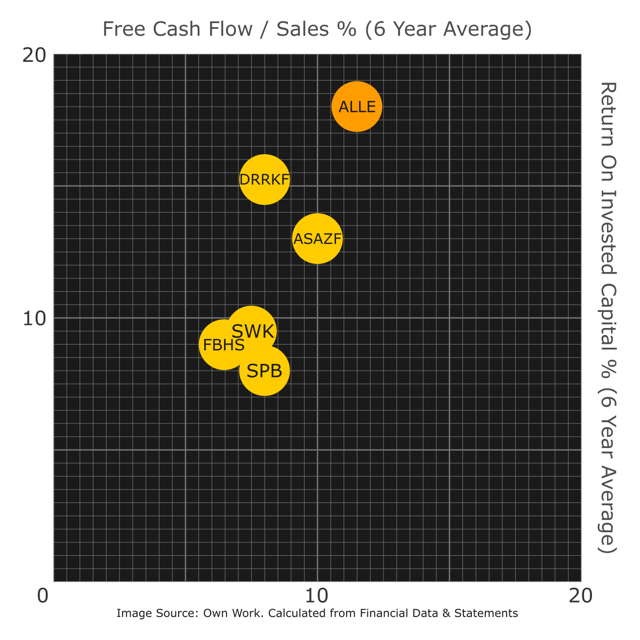 >
10. Is the company highly productive and efficient relative to assets? Yes: 1 Point
In very broad terms, it is desirable to exceed a ratio of 1:3 between Gross Profits and Total Assets, respectively. This calculation should be made both with and without Goodwill just to make sure the firm is not overpaying for acquisitions over time.
img src="https://static.seekingalpha.com/uploads/2018/7/11/7153301-15313181916098545.png" data-width="640" data-height="414" data-og-image-twitter_small_card="true" data-og-image-twitter_large_card="true" data-og-image-twitter_image_post="true" data-og-image-msn="true" data-og-image-facebook="true" data-og-image-google_news="true" data-og-image-google_plus="true" data-og-image-linkdin="true"">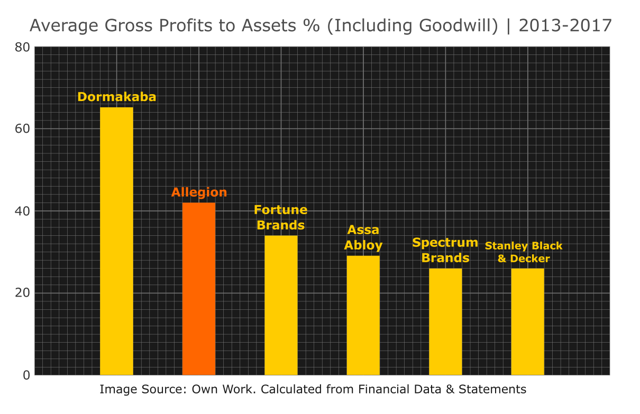 >
In Allegion's case, Goodwill was responsible for a little over one-fourth (28.7%) of the company's Total Assets throughout the last half-decade. Despite Allegion's acquisitive strategy, this is not an excessive amount. Both Allegion and Fortune Brands breach the minimum threshold of 33% (with Goodwill), but the most productive company relative to assets is clearly Dormakaba. Without Goodwill, Allegion's average Gross Profits to Assets ratio reaches a very respectable 59%.
11. Has the company been able to consistently increase sales over the last 5 years? No: -1 Point
In 2015, overall revenue declined due to unfavorable foreign currency movements and the divestiture of Allegion's Venezuelan business. Going forward, the company's sales will certainly reflect the cyclical nature of the commercial, institutional, and residential construction markets in which it operates.
img src="https://static.seekingalpha.com/uploads/2018/7/11/7153301-15313181833273392.png" data-width="640" data-height="252" data-og-image-twitter_small_card="true" data-og-image-twitter_large_card="true" data-og-image-twitter_image_post="true" data-og-image-msn="true" data-og-image-facebook="false" data-og-image-google_news="true" data-og-image-google_plus="false" data-og-image-linkdin="true"">

>
Moreover, the company's Europe, Middle East, India and Africa, as well as the Asia-Pacific businesses, are still rather underdeveloped and comparatively unprofitable, making Allegion too dependent on the status of the North American markets.
12.
Are systemic and company-specific risk factors being well-managed by the company? Neutral: 0 Points
Allegion's growth strategy is based on five pillars: cultivate enterprise excellence; expand in core markets; grow in emerging markets; develop and innovate new and existing product categories; and engage in opportunistic acquisitions. Management's strategy seems both sensible and doable, but there are, naturally, many pitfalls along the way. The shift to more complex products, for instance, is a double-edged sword that promises accelerated growth at the expense of a much greater fragility in the face of technological disruption. However - despite its short operational history - Allegion appears to be a well-run company as indicated by parameters like the company's margins, productivity relative to assets, and returns on capital: it looks like that Allegion does indeed cultivate excellence, and that it is more than able to leverage its solid institutional knowledge to gain major project wins in core markets like education, healthcare, and new construction. But the company needs to tread carefully in order to build brand trustworthiness, to gain scale and to remain acquisitive in its foreign markets. When evaluating acquisition targets, the company follows a disciplined process that checks integrations regularly: acquisitions must align with Allegion's strategic direction and core businesses, they must exhibit strong business and market fundamentals, and they must also produce a 12% Return on Invested Capital by year three. Despite such apparent discipline, the success of future buyouts is always unclear, of course, and the risk of destruction of shareholder value will remain chronically high for as long as the industry remains unconsolidated. Moreover, any protracted slump in the real estate markets can catch Allegion flat-footed amidst a spree of recent acquisitions. Allegion is also more leveraged than Assa Abloy (because the firm has paid a one-time dividend following its separation from Ingersoll-Rand), a situation that may restrict the deployment of capital in attractive growth initiatives. A failure to build scale in a lucrative, self-sustained manner will open the worldwide market gates to the 800-pound gorilla called Assa Abloy. But gaining share (in Europe, especially) will remain a challenging endeavor. Even more worryingly, Amazon (AMZN) is entering the security solutions market. After having unleashed a 'retail apocalypse' that's killing part of Allegion's business, will the Seattle behemoth become a true competitor?
13.
Is the company financially strong? No: -1 Point
Moody's assigns a relatively poor '
Baa3' long-term rating to the company, with stable outlook. At the present, Allegion has an adequate Piotroski F-Score of '
7' (out of 9) that is being penalized by year-over-year Gross Margin contraction and by a lower Current Ratio; its current Altman Z-Score of
4.10 also places the firm well inside the 'safe zone'. However, at
3.60, Allegion's Debt-to-Equity Ratio is worryingly high (in contrast, Assa's D/E Ratio stands at
0.33); it is possible, though, for a company to make its interest payments comfortably even though it exhibits a high Debt-to-Equity ratio. But the firm's Cash-to-Debt Ratio stands at a paltry
0.10 (latest quarter figures show that Cash & Short-term Investments make up
5.8% of the company's Total Assets), and its Operating Income can only cover
4.8 times the firm's Interest Expense. Standing at
1.80 and
1.10, respectively, Allegion's Current and Quick Ratios are not brilliant either. All in all, Allegion exhibits robust free cash flow generation, but its financial situation is somewhat fragile when compared to peers.
Valuation and Conclusion
Relative Valuation: The current P/E of Allegion is lower than its 5-year average, but this fact is not significant because the firm's price was trading at a premium to earnings during the years following the spin-off (moreover, investing in Allegion today would go against the old investment adage that states that sensible investors should 'Only buy cyclicals when they look expensive'). More rationally, for cyclical companies like Allegion, we would have to make subjective appraisals on the P/E valuation by looking at the most recent cyclical peak, estimate whether the next peak is going to reach higher or lower than the last one, and then determine a P/E based on the present-day price relative to the firm's future earnings. The company's operational history precludes such (tortuous) approach. On the other hand, the firm's P/FCF is in line with Allegion's 5-year average and well above the industry's present norm.
img src="https://static.seekingalpha.com/uploads/2018/7/11/7153301-1531318183309564.png" data-width="640" data-height="183" data-og-image-twitter_small_card="false" data-og-image-twitter_large_card="false" data-og-image-twitter_image_post="false" data-og-image-msn="false" data-og-image-facebook="false" data-og-image-google_news="false" data-og-image-google_plus="false" data-og-image-linkdin="false"">

>
Absolute Valuation: Allegion's year-over-year cash flows have not been unstable or lumpy: the sample's standard deviation reaches a value of 49.4 dispersed around an average of 250 (expressed as millions of US dollars), which means that the firm's free cash flow stability* has been relatively high (Allegion free cash flow stability is 0.80; that bastion of stability called Johnson & Johnson (NYSE:JNJ) reached a value around 0.88 when the period from 2008 to 2017 is used to calculate free cash flow stability, and 3M (NYSE:MMM) also reached a value around 0.80 during the same interval). At first sight, Allegion seems to be a reliable free cash flow-producing machine; however, its short operational history (again) is a strong factor of uncertainty in modeling future cash flows. Either way, the main inputs to our valuation model were the following: revenue growth at CAGR of
6% -
9% over the next four years; operating margins of
18% -
20% during the same period; discount rate set between
8.5% -
9.5
%; cost of capital between
7.5
% and
9.0
%; and returns on capital between
13
% and
18
% the valuation model imparts a present-day fair value estimate range between
USD 75 and 85 per share, implying that Allegion is fairly valued. *As calculated by 1-(Standard Deviation/Mean Standard Deviation).
The Quality Score for Allegion is 4 out of 13
In absolute terms this is a low score; however, among more cyclical names, Allegion is one of the highest quality companies in the market. Allegion is indeed a solid business sustained by switching costs, by a large installed base and by significant intangible assets that include patents, know-how and strong brands. The company also produces high margins and high returns on capital relative to its main peers. Medium-term industry conditions related to expected growth in its primary arenas are however counterweighted by Allegion's long-term reliance on the cyclical housing and construction end markets; to increase its quality as an investment (a necessarily subjective concept), the company will need to develop its sources of recurring revenue and improve its balance sheet. Unfortunately, that's a difficult balancing act since, like Imperial Russia at the time of the conquest of Siberia in the 16th century, the company also needs to expand aggressively in order to counteract the menace posed by large and powerful competitors threatening its core territories (namely Assa Abloy). Coupled with its current valuation, Allegion's acquisitive strategy, volatile markets, and ongoing technological shifts, all make for a somewhat difficult investment thesis. Allegion is a 'hold'.
Source : https://seekingalpha.com/article/4186894-allegion-unlocking-growth-cyclical-market
5974