"If reason ruled the world would history even exist?" ― Ryszard Kapuściński
Today, we take a look at a non-U.S. based biotech concern focused on women's reproductive health and pregnancy. The stock has had a nice run so far in 2018.

>
Company Overview:
ObsEva (OBSV) is a Switzerland based, clinical-stage biopharmaceutical company that was founded in 2012. The company is focused on the development and commercialization of novel therapeutics for serious conditions that impact a woman's reproductive health and pregnancy. ObsEva currently has a market cap of approximately $750 million and trades for just under $17.50 a share.
In news this summer, on July 25th, 2018, the company announced the appointment of their chief Commercial Officer, Wim Souverijns. Mr. Souverijns has 20 years of experience in the pharmaceutical industry and has served in a variety of roles, including the Head of EMEA for Celgene. Mr. Souverijns will help prepare the company for the commercialization of their lead product candidates, marketing, and sales. More specifically, he is tasked with preparing the company for the commercialization of Nolasiban, starting in Europe.
>
Source: Company Presentation
Pipeline:
The company's pipeline is comprised of three product candidates, two late-stage and one mid-stage. Linzagolix and Nolasiban are both in Phase 3 of development. Linzagolix is in development for uterine fibrosis and endometriosis, and Nolasiban is in development for assisted reproductive technology. OBEO22 is the company's mid-stage asset which is in Phase 2 of development for preterm labor.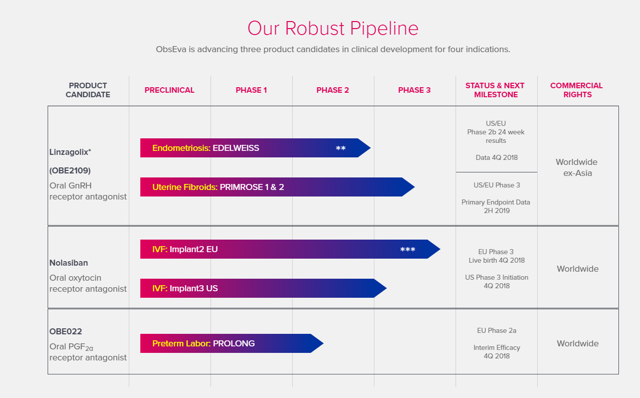 >
Source: Company Presentation
Linzagolix:
Linzagolix is a novel, oral gonadotropin-releasing hormonereceptor antagonist that is intended to manage heavy menstrual bleeding associated with uterine fibrosis while at the same time minimizing bone mineral density loss and other negative externalities associated with currently approved treatments. The company holds worldwide commercial rights to the drug except for Asia where Kissei holds the rights. Compared to other GnRH therapeutics, Linzagolix can be administered once daily; relieve symptoms within the first few days; mitigate the initial worsening of symptoms often associated with other GnRH treatments; and unique properties that allow for personally tailored dosing, which has the potential to lower estradiol levels while maintaining such levels within an optimal range to mitigate patient bone mineral density loss. Ultimately, the drug can potentially improve the quality of life of individuals, minimize side effects and reduce complications that lead to doctor's visits or costly surgeries.
On June 18th, 2018, ObsEva announced that they met the primary and secondary endpoints in their EDELWEISS Phase 2b clinical trial of Linzagolix in women with endometriosis. Main highlights include the 75mg dose delivering a partial suppression of estradiol with a highly significant reduction of pain, and the 200mg dose achieved full estradiol suppression and demonstrated highly significant efficacy. Also, the drug demonstrated a terrific safety profile. The 75mg dose was particularly impressive with a 61.5% responder rate and p-value of 0.003 for the primary endpoint. Patients in the trial will continue for another 12 weeks and 24-week data should be available in the fourth quarter of 2018. The company intends to move to a Phase 3 by the end of the year with two different doses of Linzagolix and will be seeking regulatory feedback from authorities on the Phase 3 clinical trial.
Turning to uterine fibrosis, patients continue to be enrolled in the PRIMROSE 1 and PRIMROSE 2 Phase 3 clinical trials. The target enrollment is approximately 1,000 women in total between the U.S. and Europe. The trials will be evaluating the efficacy and safety of two doses being studied, one with hormonal add back therapy and one without hormonal add back therapy. Completion of patient enrollment of the Phase 3 PRIMROSE 2 trial is targeted for the end of 2018 and PRIMROSE 1 is anticipated to be completed by Q1 of 2019. Primary endpoints are scheduled to be available in the second half of 2019.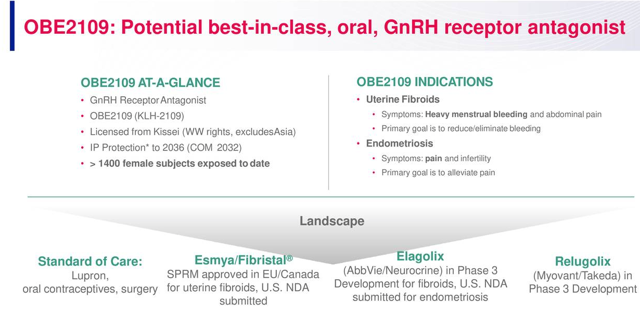 >
Source: Company Presentation
Nolasiban:
Nolasiban is an oral oxytocin receptor antagonist that may be able to decrease contractions and improve uterine blood flow, which would enhance the receptivity of the endometrium to embryo implantation. The company maintains worldwide commercial rights.
On February 26th, 2018, the company announced positive topline results from their IMPLANT 2 Phase 3 trial of Nolasiban in IVF. The trial included 778 patients from 41 fertility clinics across 9 European countries. The results included efficacy and safety data up to week 10 of pregnancy following embryo transfer. The drug demonstrated a 10-week ongoing pregnancy rate of 35.6% for Nolasiban treated patients vs. 28.5% for placebo treated patients. The company now intends on reaching out to regulatory authorities in Europe and the U.S. about guidance on the regulatory path moving forward. Additionally, follow-up data from the IMPLANT 2 study was released October 3rd and was in line with the previous data above. Looking towards the U.S., the initiation of the U.S. Phase 3 program is planned by the end of 2018.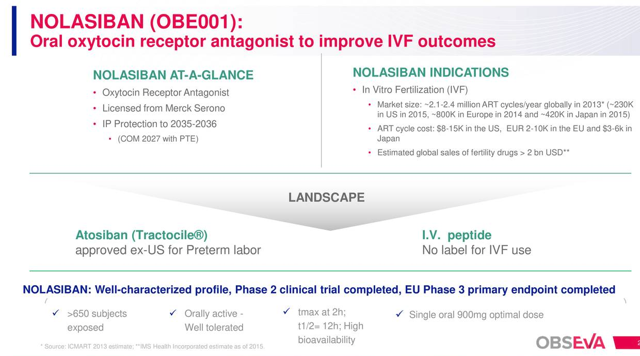 >
Source: Company Presentation
OBEO22:
OBEO22 is an oral, selective prostaglandin F2 alpha receptor antagonist, which is designed to control preterm labor by decreasing uterine contractions, reducing inflammation, and preventing cervical changes and membrane ruptures. The company maintains worldwide commercial rights to the drug. Currently, treatments for preterm labor have limited efficacy or restrictive safety issues.
Currently, the drug is in Phase 2 of development. Patient enrollment has continued in Part A of the prolong Phase 2a trial for the treatment of pre-term labor in pregnant women between 24 and 34 weeks of gestation. Part A of the Phase 2a PROLONG clinical trial is presently completing, and initial interim efficacy data from the Part B of the trial is expected in Q4 of 2018.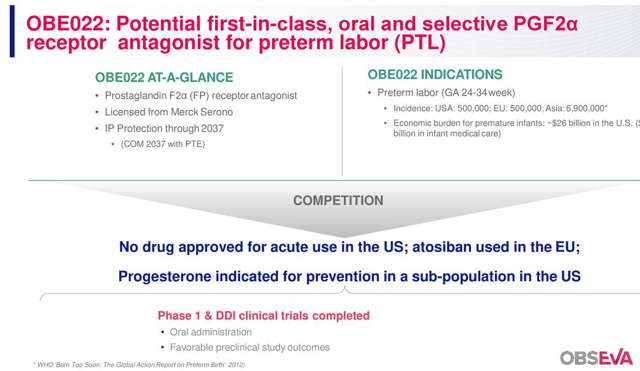 >
Source: Company Presentation
Analyst Commentary and Balance Sheet:
As of June 30th, 2018, ObsEva had cash and cash equivalents of approximately $166.8 million, which is roughly $56 million more than the company had on December 31st, 2017 thanks to a capital raise. Also, the company had $14 million in total liabilities on the balance sheet. Research and development expenses for the second quarter of 2018 were $14.6 million, compared to $14 million for the same period last year. General and administrative expenses for the second quarter of 2018 were $3.5 million, compared to $3.8 million for the same period last year. With the latest equity raise, which brought in $87 million in net proceeds and is included in the $166 million in cash and cash equivalents, the company now expects their financial runway to extend into the first half of 2020.
Wall Street appears to have a positive view on the ObsEva. The current median analyst price target is just north of $33.00 a share. Since those additional positive trial results came out two weeks ago, Wedbush ($34 price target), Leerink Partners ($27 price target) and H.C. Wainwright ($44 price target) have reissued Buy ratings on ObsEva.
Here is the commentary from Wainwright's call earlier this week.
Valuation methodology, risks and uncertainties. Our risk-adjusted net present value (rNPV) approach ascribes $1.68B to linzagolix (formerly to nolasiban. We utilize an 85% probability of approval for linzagolix and 75% for nolasiban.
Verdict:
The company has multiple 'shots on goal', upcoming potential catalysts, is well funded and has strong analyst support. Despite a nice rally so far this year, I personally have taken a small position in OBSV as a 'watch item' stock.
"It is better to debate a question without settling it than to settle a question without debating it." ― Joseph Joubert
Bret Jensen is the Founder and author of articles on >The Biotech Forum, >The Busted IPO Forum and >The Insiders Forum. To receive these articles as published on Seeking Alpha, just click the appropriate link and hit the orange follow button.
Disclosure: I am/we are long OBSV. I wrote this article myself, and it expresses my own opinions. I am not receiving compensation for it (other than from Seeking Alpha). I have no business relationship with any company whose stock is mentioned in this article.
Source : https://seekingalpha.com/article/4212218-depth-look-obseva