The Coca-Cola Co. (KO) is often put down as an over-the-hill company, yet this overlooks the long-term value that this time-tested Dividend King will likely provide. Coca-Cola maintains its almost-unassailable competitive advantages of its vast drinks portfolio and its global distribution network, neither of which have suffered any long-term impairment.
It is not hard to point to the factors that lead one to a bearish conclusion on Coca-Cola. First, its growth potential is now limited. After all, growth was historically driven by geographical expansion. Now, Coca-Cola is present in over 200 markets worldwide, so its scope for geographical expansion is thus minute.
Second, there is the long-term trend away from carbonated soft drinks. Indeed, overall sales for carbonated soft drinks have been declining for over a decade now, affecting not only Coca-Cola but rivals PepsiCo (PEP) and Dr. Pepper Snapple (KDP). However, neither of these factors should cause investors to disdain Coca-Cola over the long-haul.
First, Coca-Cola retains pole position overall in non-alcoholic beverages, carbonated beverages, teas, coffees, and juice. They possess twenty-one brands which mint in excess of $1 billion annually, and are dominant in over 200 markets and partnered with approximately 250 bottlers. These factors are not going to be displaced long-term.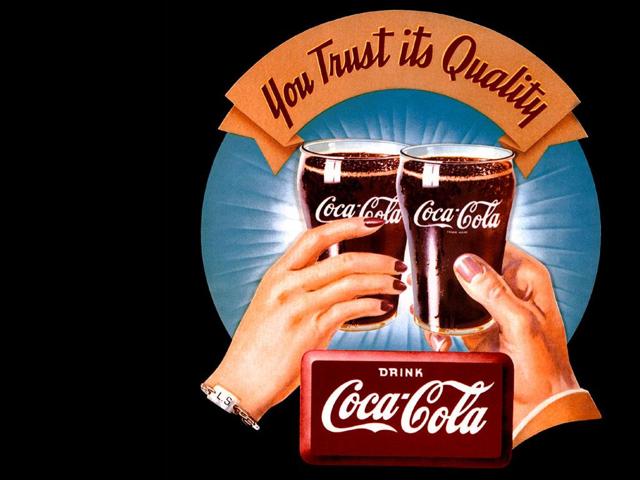 >Image taken from picgifs.comThe trend away from carbonated soft drinks is the most problematic headwind that Coca-Cola faces, including the prospect of sugar taxes. This is an issue that Coca-Cola takes seriously, as evidenced by the remarks of the company's Latin America Group President, Mario Alfredo Rivera García, at the Goldman Sachs Consumer Staples Forum in May:
I think our approach at the beginning – and this has been a learning process, and to some degree painful – was that we resisted or denied the need for change at the beginning. And then we realized that actually if we work together with governments and other stakeholders to think about reformulation, to think about how we can actually help around this obesity issue, that would be more constructive. And I think we've made a lot of progress.
In addition, the company has been actively addressing this issue by diversifying its drinks portfolio towards non-carbonated offerings such as Ayataka, FUZE, Gold Peak and Honest Tea. They have also branched into alcoholic drinks with the launch of the lemon-flavored chuhai in the Japanese market.
So, overall, the issues that would appear to stymie Coca-Cola appear inconsequential. It may not be a huge grower, but it remains an exceptionally profitable company, as its revenue figures over the past five years attest.
| | |
| --- | --- |
| Year | Revenue ($) |
| 2013 | 46.76 billion |
| 2014 | 46 billion |
| 2015 | 43.7 billion |
| 2016 | 41.38 billion |
| 2017 | 35.02 billion |
These revenue figures show a slight decline which is evidence of slowdown rather than deterioration, and will improve as Coca-Cola's ongoing transition takes effect in the years ahead. In any event, the likelihood that it will prevent Coca-Cola from sustaining its record of paying shareholders consecutively rising dividends - a record that has lasted for over half a century now - is minimal. The company's visibility - it has the 5th most powerful brand in the world - and market dominance ensure that it will not be going anywhere anytime soon. This is as low-risk an investment as it is possible to find. And it is trading at fair value now.
Currently, Coca-Cola is trading in the mid-$40 range with a price-to-earnings ratio of 21.87, a forward P/E ratio of 19.92, and offers a dividend yield of 3.47% with a payout ratio of 75.4%. The current P/E ratio and forward P/E are both lower than the five-year average P/E of 37.69, lower than the beverages industry average of 47.70, and lower than the S&P 500 (SPY) average of 24.91. Furthermore, the current dividend yield is higher than the five-year average of 3.08%. This would suggest that the stock is currently trading either under fair value or at fair value at this time.
In summary, Coca-Cola remains an excellent income provider for conservative, low-risk investors. Its diversification into non-carbonated beverages will enable it to remain a profitable company in the years ahead. While the revenue figures have slowed in recent years, the profit engine is still ticking, and investors will continue to benefit in consequence.
DISCLAIMER: The author is not a financial professional and accepts no responsibility for any investment decisions a reader makes. This article is presented for information purposes only. Furthermore, the figures cited are the product of the author's own research and may differ from those of other analysts. Always do your own due diligence when researching prospective investments.
Disclosure: I am/we are long KO. I wrote this article myself, and it expresses my own opinions. I am not receiving compensation for it (other than from Seeking Alpha). I have no business relationship with any company whose stock is mentioned in this article.
Source : https://seekingalpha.com/article/4186934-coca-cola-still-worth-considering-present