We have been long Hormel Foods Corporation (HRL) for a few months now and are up just under $1 a share on our position. I wrote an article about this stock in late February and discussed the strong dividend growth profile of this company. Yes, the company has been struggling with top line growth of late, but nothing can be taken away from Hormel's balance sheet. It remains one of the best I've researched. Despite the 50+ years of dividend growth the company has enjoyed, some investors believe the jury is still out with regards to the company's long-term fundamentals. Why? Well for a start, price deflation in the company's turkey segment remains a drag and forward looking earnings will really only get a bounce due to a number of factors such as low hog prices and obviously the Trump lower tax tailwind.
The company's forward earnings multiple of just under 19 seems right on the money with respect to a historic average valuation. The yield won't excite investors as Hormel currently pays out around 2%, whereas the industry average is around the 2.6% mark. The one area where I would concur with some bearish analysts would be the acquisition rate which I agree must be elevated for Hormel to have any hope of reaching its 10% earnings annual future growth projections. In saying this though, the company has proven it has strong competitive advantages and has proven through the years that it can handle the cyclical nature of this industry. Its cash flow and book multiples also seem on the cheap side to where we have been. I still see more upside which is why we will be remaining long here.
img src="https://static.seekingalpha.com/uploads/2018/4/16/saupload_sc_thumb1.png" data-width="640" data-height="485" data-og-image-twitter_small_card="true" data-og-image-twitter_large_card="true" data-og-image-twitter_image_post="true" data-og-image-msn="true" data-og-image-facebook="true" data-og-image-google_news="true" data-og-image-google_plus="true" data-og-image-linkdin="true"">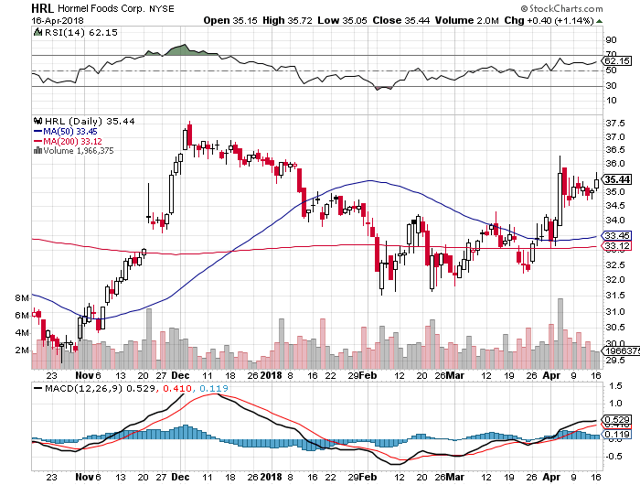 >
In terms of brand strength, the company's gross and operating margins of 21.2% and 12.8% over a trailing 12-month average have never been higher. Free cash flow of $882 million is also at the top of its range over the past decade. Acquisitions have played their part in Hormel's success story, but the debt on the balance sheet is still pretty minuscule (14%) compared to the $65 billion of equity. On the dividend side, Hormel has grown the annual payout by around 16% on average over the past decade which again speaks volumes, especially when you take into account that the payout ratio has hardly moved and is currently stuck at around the 43% mark. To state that Hormel has a conservative balance sheet is probably an understatement. The strength though of its financials is probably why the company has proven it has what it takes to work through the cyclical nature of this industry.
Furthermore, as uncertainty surrounds the turkey segment (where I believe eating habits have not changed), investors should still take note of the recession proof nature of this stock. In 2009, for example, net income rebounded significantly to hit $343 million which was well up from the $286 million the previous year. Hormel's top line also only dropped briefly in the great recession before finally spiking to well over $7.2 billion in 2010. The key here is that demand should always be buoyant for Hormel's offerings irrespective of the economic climate. Revenue growth as stated has been poor of late is actually -2.7% over the past 12 months. EBITDA and operating income growth over the past 12 months also have been struggling (-5.2% and -7.3%, respectively). Therefore, history would suggest that these numbers should not persist. Is this guaranteed? No, but the company seems to be doing as much as it can to diversify away from raw commodity exposure.
Hormel will undoubtedly need to acquire well again, but here is where one must back the company's track record with respect to its disciplined acquisition record. Through the likes of Muscle milk, Skippy and Justin's, the company has stayed relevant and has responded to what the market is looking for. This is where Hormel has to have an advantage over smaller players in this field. Hormel has the fire power to acquire companies which are growing fast. It then can use its competitive advantages (scale being a big one) to bring about a return on any investment as quickly as possible for its shareholders.
Source : https://seekingalpha.com/article/4163398-hormel-foods-40-target
799