Jazz Can't Stop, and Won't Stop M&A
If the line above surprised you, you clearly haven't been following Jazz (NASDAQ:JAZZ) long enough. The company's been built from the ground up through shrewd mergers and acquisitions, even before it listed publicly in 2007. For those that don't know the story, in 2005, Jazz snapped up a tasty little public company called Orphan Medical for
$122.6 million in cash.
Representing a 25% premium to market price, it seemed to be a respectable payout for many Orphan shareholders. In reality, this turned out to be an absolute steal for Jazz Pharma. With a simple all cash transaction, Jazz obtained the brand and rights to Xyrem, an orphan drug for the treatment of narcolepsy and cataplexy. This drug went on to become an absolute blockbuster, accounting for
over a billion dollars of their revenue for the fiscal year of 2016.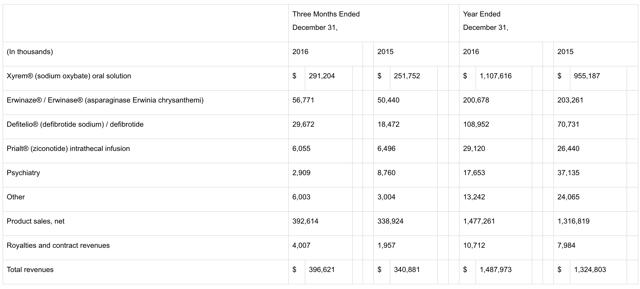 >
Source: Jazz Pharmaceuticals Financial Results for the Full Year and Fourth Quarter of 2016 (Total revenues and constituents)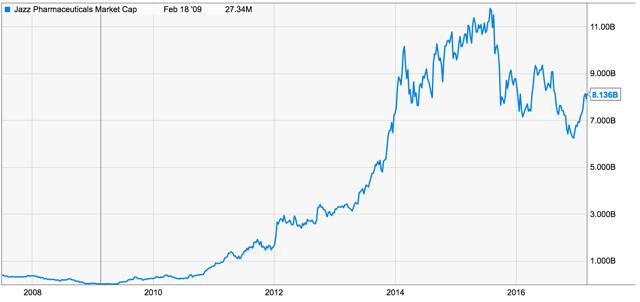 >
Source: YCharts - Market Cap of JAZZ IPO-Present, All time low of $27.34M in '09
With income from ramping Xyrem sales, Jazz's valuation quickly reached a billion dollars by 2011. Since then, Jazz has never gone longer than two years without executing on a new acquisition.
A quick overview (lead compound in parentheses):
2011- Jazz merges with Azur Pharma PLC in all-stock transaction, basing itself in Ireland.
2012 - Jazz purchases EUSA Pharma in an all-cash deal for $650 million + $50M in milestone payments. (Erwinaze)
2014 - Jazz acquires Gentium SpA for $57/share for $1Billion in cash. (Defitelio)
2016 - Jazz acquires Alizé Pharma II for $20.5 Million, and Celator Pharmaceuticals for$1.5 Billion in cash. (Asparec (licensed from EUSA) and Vyxeos)
There's a few interesting observations that can and should be made.
With the exception of Azur Pharma PLC, of which we're sure was a play to enjoy Irish tax rates, every deal (including Orphan Medical) has been a straight acquisition in an all cash deal.
Every all cash acquisition, with the exception of Alizé (on account of its small size), was financed through a combination of cash on hand and Jazz's credit facility at that given junction in time.
Ignoring Azur,

every company that Jazz has acquired targeted an orphan indication.

Again, ignoring Azur-

Jazz acquires a company 2-3 years before initial sales begin on their respective lead orphan indications.
With integration of last year's big-ticket Celator purchase finally wrapping up, we dialed into Jazz's earnings call last week to glean some information regarding future acquisitions.
We got a lot more than we expected to hear. Management commentary and responses from Jazz's earnings call signaled not only the operational capacity and desire for a new acquisition for the fiscal year, but emphasized their current focus in particular areas of treatment and patient populations.
By aligning the information disclosed by the management team during call with the characteristics demonstrated in earlier acquisitions, we believe Jazz has made their acquisition target for the fiscal year of 2017 crystal clear.
Notable Excerpts From The Earnings Call
CEO Bruce Cozadd headed the call with a brief overview of the company's goals for the year of 2017.
"In 2017, we are looking forward to delivering solid top-line and bottom-line growth; expanding our commercial portfolio with potential FDA approval and U.S. launch of Vyxeos; executing on R&D, including multiple expected clinical trial initiations, completions, results and regulatory submissions; as well as

continuing to diversify our portfolio through corporate development activities."
With total revenues of $1.5 Billion in 2016, growing 12% over the last year and 2016 GAAP income of $397 Million compared to $330 Million in 2015, it's clear that Jazz is continuing to execute on its business model of acquiring and commercializing orphan drugs. Despite the robust clinical development pipeline established over multiple acquisitions, it's clear that Jazz remains open to incorporating additional assets.
When discussing the status of Defitelio, he noted,
" As we look at known pediatric and adult accounts, approximately 78% of pediatric accounts have ordered products since launch and just over a half of adult accounts have now ordered."
This is a particularly interesting point. Even ignoring the substantial difference between 78% in pediatric accounts vs. 50% in adult accounts, one has to imagine that the difference in adoption rates stood out enough to merit closer attention. Moreover, if pediatric patient populations consistently display faster adoption rates compared to adults, this represents an interesting opportunity for future ventures.
As if to confirm interest in this possibility, he goes on to clarify the new strategy being deployed by the company's hem/onc sales force.
"We've reorganized the hem/onc sales force to focus on either physicians specialized in treating pediatric patients or adult patients. We believe that this approach will allow us to more efficiently reach treaters of adult patients undergoing HSCT and developing veno-occlusive disease with multi-organ dysfunction, and treaters of adult AML patients while

maintaining our strong relationships clinicians who specialize in pediatrics."
This clearly stresses the newfound distinction in viewing patient populations in a pediatric and adult focus.
The CEO then
concluded his portion of the call with the following:
" We believe our continued investment in our R&D pipeline and commitment to bringing meaningful products into the portfolio through corporate development activities provides the potential to generate strong mid-term and long-term growth for shareholders, and to further diversify and expand our commercial and development portfolio."
Bruce Conzadd makes it crystal clear that M&A is the engine driving Jazz Pharmaceuticals. Moreover, by ending on this note, he strongly implies the engine is still up and running for corporate development activities in 2017.
The call then turned over to CFO Matthew Young, who discussed the financial status of the company.
" During the fourth quarter, we made a $150 million payment toward our revolving credit facility and spent $80 million to repurchase shares at an average cost of $105.71 per ordinary share. Corporate development transactions continue to be a high priority, and we are enthusiastic about multiple opportunities that could further diversify our portfolio. We believe that our strong cash flow, low leverage ratio and flexible capital structure allow us to continue to meaningfully invest in our portfolio. Our capital deployment strategy seeks to optimize the allocation of capital between R&D, commercial products, corporate development opportunities and the repurchase of shares with a focus on optimizing return on investment for our shareholders."
This is exciting, because not only is Jazz actively using its cash position to increase shareholder value through buybacks, but the payment, towards the revolving credit facility that was tapped to purchase Celator last year, strengthens Conzadd's closing sentiments of M&A activity for this year.
The call opened for an Analyst Question and Answer session. Here are the parts we found interesting.
Ken Cacciatore - Cowen & Co. LLC
"And then secondly on orphan oncology, I'm just not as familiar with that area. Can you just give a little bit of a thought on business development in that area? Is pricing in orphan oncology as attractive as other orphan indications, or is there anything unique that wouldn't allow you to get pricing as you can kind of look at the business development in that area? Thank you."
Bruce C. Cozadd - Jazz Pharmaceuticals Plc
"On biz dev, on the oncology side, maybe I'll let Matt comment. In general, when you ask a comment on pricing, I would say pricing really always should relate back to how effective is the product, how serious is the disease, and what's that product impact relative to other available treatments?

And one of the things I think we've been highly focused on in the products that we have as part of our portfolio are finding products that really make a

difference for patients in a way that's differentiated from other products.

Matt, you want to talk generally about corp dev in this space?"
Matthew P. Young - Jazz Pharmaceuticals Plc
"Yeah, I think, Ken, we've been able to be successful here in the recent past in a series of at least three transactions recently and continue to see the opportunity to find products that we see may need some help in terms of education and awareness and making sure that how to use them in evolving treatment paradigm is well-understood. But we believe there is an opportunity for us to both identify and enhance value of products in the space. And so like a lot of BD across the industry, it can be competitive for attractive products, but we believe we have a path to be successful in securing additional assets in that area."
The management commentary here is crucial to our thesis.
Bruce seems to dodge the comment on pricing, panning to a general discussion of how effective the product is, and the target disease, especially relative to other

available treatments.

As Matt takes on the question, he states the opportunity in finding products that may need some help in terms of education and awareness. He goes on to state the use of the hypothetical therapy in an evolving treatment paradigm.
As you consider these two points, read our

bolded and italicized

portion of Bruce's answer. In the context of orphan oncology, these points don't really fit the bill for a cancer killing therapeutic. For the most part, in order to kill cancer cells, the therapy tends to be highly toxic or invasive to the body. And in the context of Matt's response, the hardships of chemotherapeutics/radiotherapies and other generally accepted forms of treatment are already readily understood, even to those without cancer.
Following this vein of thought, we believe the responses point towards a therapeutic that is able to attenuate or eliminate some of the deleterious effects of current standards of cancer treatment. This would fall in line with Matt's idea of an "evolving treatment paradigm".
The following responses provide more tone.
Douglas Tsao - Barclays Capital, Inc.
"Hi. Good afternoon. Thanks for taking the questions. Just a couple of quick ones. First on Defitelio,

I noticed that the penetration into pediatric is much higher than adult center. Just maybe talk a little bit about the adoption curve within those respective sort of patient populations and how we should think about growth there? "
Michael Patrick Miller - Jazz Pharmaceuticals Plc
"---- So with respect to pediatric adoption of Defitelio, first and foremost, we have established relationships into the pediatric centers by way of Erwinase. So when we launched, we knew our way around those centers, and that helped. And then VOD actually happens at a higher rate in pediatric patients.

So, the ped[iatric] transplanter is much more attuned to looking for the early signs and symptoms, and will aggressively treat that patient who develops those signs and symptoms, more so than the adult patient where there is a -

there can be a wait and see approach.----"
Reinforcing the difference in adoption rates discussed earlier, the clarification serves to confirm Jazz's strong network of relationships within the pediatric space.
Of additional interest is Michael's note of higher prevalence of VOD in pediatric patients. It highlights his (and correspondingly, the company's) awareness of conditions that may occur more frequently in younger patient populations. He also stresses the difference in urgency and attitude between pediatric and adult care.
We return to the call with Liav Abraham of Citigroup question regarding business development and capital allocation.
Liav Abraham - Citigroup Global Markets, Inc
"Good afternoon. Just a follow-up question on business development and capital deployment, you partly addressed this during your answer to David's question but have to be elaborated further. I'm curious as to, when thinking about business development, how you think about approaching commercial versus R&D stage assets, particularly given how busy you are in the R&D front. And I guess basically, what is your capacity and bandwidth to increase R&D activities at the moment?"
Matthew P. Young - Jazz Pharmaceuticals Plc
"Yeah. Thanks, Liav. We are definitely looking at that in a balanced way. And as I think Bruce alluded to in the previous comment, are thoughtful about what part of the organization we may stress with new opportunities. We've certainly grown our investment in R&D, both programs and people pretty dramatically, and I think we'll - and always look at what can we take on directly, what can we leverage a partner for, what can we leverage outside the resources for. So we do believe there is capacity across our organization to continue to add development programs taking those factors into account, and I think we look at both - and operating lines relates to that in terms of capacity constraints as well as a financial line to sort of balance what we believe is achievable and doable on investors versus shareholders. So, we're definitely very active looking at a combination of commercial and R&D opportunities."
So for starters, the Jazz management team is already looking at potential companies for acquisitions. More importantly, CFO Matthew Young states that
the company has not only the bandwidth to support new development programs, but also the capital required in bringing in new programs.
Notice how Matthew doesn't commit to a firm answer between commercial or development stage companies in regards to acquisition. The ambiguity is understandable given the profoundly larger market cap associate with commercial stage orphan companies. Specificity on this front would make the capital requirements for this year much too clear for comfort.

>
Source: JAZZ Earnings Call Presentation
Boiling it all down
Based on the earnings call, we believe it's reasonable to assume that
Jazz Pharma is looking to acquire new therapeutic assets this fiscal year. Management has stated the availability of company bandwidth and capital to support the integration and development of new clinical programs. In addition to current cash positions and their credit facility of $826 million, Jazz pharma has indicated the willingness to obtain outside leverage should the acquisition require it.
If we take their statements to be truthful and stated in good faith, the question then becomes, what new indications is Jazz looking at, and which companies represent compelling acquisition targets for that indication?
Qualifying And Narrowing Down Potential Acquisition Targets
Beginning with the obvious, the company or companies in question must be pursuing an orphan indication. To our knowledge, Jazz has yet to invest in a non-orphan drug company, and we don't see any reason why the company would stop doing so.
Consider the following points stated in Jazz's earnings call
When answering a question regarding the attractiveness of pricing in orphan oncology, management related the pricing and the company's clinical portfolio to finding products that are highly differentiated from other products in the marketplace. We believe this signals an interest in therapeutics focusing on attenuating the negative side effects resulting from the current standard of care utilizing chemotherapeutics instead of new compounds with anti-cancer effects.
Regarding the first point, management has stated the opportunity in finding new products that require help in terms of [patient] awareness and education in the context of an evolving treatment paradigm. Moreover, the company believes it has a path for success in securing additional assets in this area. This strengthens the notion that the company is not looking at new chemotherapeutics, in consideration of the well-understood nature of the treatment regimen.
Management has repeatedly stated the strength of its newly developed network in pediatric care. More interestingly, the company has cited the increase in prevalence of specific health-conditions in younger patient populations. An acquisition in a pediatric indication would result in a natural synergy with Jazz's new network.
Based on the unusually specific nature of the management team's responses during the earnings call, we believe Jazz Pharma has been looking at this particular indication for a long period of time:
Cisplatin-related ototoxicity or hearing loss in pediatric cancer patients.
This indication falls in line with every major takeaway of the earnings call. Hearing loss from cisplatin therapy is drastically more pronounced in younger pediatric patient populations. With no therapeutic or therapy currently approved by the FDA, this indication remains a highly unmet medical need with the potential for orphan drug status.
Acquisition of a company focusing on this indication would provide Jazz the exposure to orphan oncology and pediatric patient population alluded to multiple times in their earnings call.
An overview of cisplatin-related hearing loss in pediatric patients
Pediatric oncology was once a grim affair, with a reported combined five-year survival rate below 50% during the 70s. Fortunately, the outlook and standard of care for childhood cancer has advanced tremendously, with
current combined five-year survival reported at

>86%

. This was made possible from the adoption and refinement of chemotherapy in treatment regimens.
Although chemotherapy remains as the standard of care for the majority of cancer indications, medical professionals continue to grow increasingly wary of the long term side-effects chemotherapeutics have been shown to cause. With oncology survival outlooks growing closer to 100%, impact to patient quality of life is becoming a salient consideration in cancer treatment regiments.
Among the many chemotherapeutics in use today, cisplatin is a gold standard (platinum standard?) staple in the treatment regimens of many cancers. Although responsible for robust survival benefit, the drug is well documented in causing lasting kidney damage, nerve damage, nausea, and hearing loss.
Last year, the Journal of Toxicology published an article discussing the significance of hearing loss from cisplatin. Cisplatin-based ototoxicity incidence is alarmingly high, with one study reporting ototoxicity in 75-100% of patients on cisplatin. This hearing loss leads to a direct reduction in quality of life,
potentially leading to depression and social isolation for many patients.
Cisplatin-induced hearing loss for pediatric patients under the age of 5 is even worse. Given that infancy to early childhood is a crucial period of physical and mental development, cisplatin significantly impacts the natural development of bodily systems that mature during this period.
Unfortunately, the auditory system is one of these systems. Although the human auditory system takes roughly 20 years to fully develop, research suggests the majority of this maturation takes place in the first five years. The changes in this period carry "substantial effects on how sounds are absorbed, processed, filtered, and transmitted to the auditory system."
Cisplatin usage in patients under the age of five are
21 times more likely to develop moderate to severe high frequency hearing loss compared to older children and adolescents receiving the same cumulative dose, and this risk has been shown to be even higher for infants under six months that were treated with carboplatin.
Early hearing loss is particularly deleterious, given that it is in our earliest years where we begin to acquire language. Cisplatin-based hearing loss manifests in the inability to detect high frequency sounds first, with greater cumulative doses leading to the reduction of ability to hear lower frequencies. While low frequency hearing is associated with vowel sounds, intonation, nasality, and some consonant sounds, high frequency hearing is instrumental in distinguishing high frequency consonants (s, sh, f, t, z, th, h, k, p).
Young children find themselves unable to compensate for these gaps in their phonetic alphabet due to their still developing understanding of language.
Studies conducted in children with hearing loss were reported to have twice the rate of educational difficulties and need for support services. The delay in proper speech and language development serves to negatively impact educational success throughout life, and psychosocial development for obvious reasons. This results in a profound impact to quality of life.
Cisplatin-related hearing loss is currently considered irreversible, and has been demonstrated to worsen in the 1-2 years following treatment.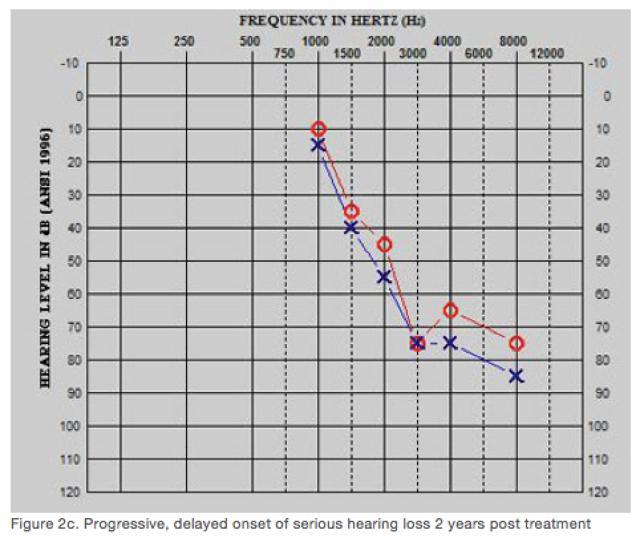 >
Substantial long term hearing loss represents a huge secondary, unseen cost in childhood cancer treatment. In 2000, the societal costs of severe to profound hearing loss in the United States were assessed. Although it was determined that severe to profound hearing loss would cost society $297,000 over the lifetime of an individual, this figure jumps dramatically to
over $1 million in lifetime costs for those with prelingual onset. Prelingual onset refers to hearing loss prior to the completed development of language, which affects the overwhelming majority of pediatric patients on cisplatin therapy.
The global pediatric oncology community recently acknowledged the substantial and negative impact of pediatric ototoxicity from cisplatin. At the 42 nd Congress of the International Society of Pediatric Oncology (SIOP) in 2010,
European and American experts collaborated to present chemotherapy-induced ototoxicity as one of the most significant concerns present in modern-day children's cancer treatment.
Fortunately, the patient population suffering from pediatric cisplatin-induced ototoxicity is very small. Cancer is incredibly rare in young patients (almost 16,000 US patients from ages 0-19 in 2014). Furthermore,
only about 2,000 patients under the age of 6 go on to receive platinum-based chemotherapy (Cisplatin/carboplatin) for localized cancer in the US. Which makes a very clear case for Orphan drug designation for a treatment for this indication.
Which Company Will Jazz Acquire Next?
According to our research, only two companies are currently in clinical trials to address cisplatin-induced ototoxicity:
Otonomy (NASDAQ:OTIC) and
Fennec Pharma (OTCQB:FENCF).
More importantly, we're 100% confident that Jazz is looking at these two companies.
For the readers that have made it this far, many of you are probably thinking the same thing: " First, there is no way Jazz has even heard of this random indication where kids lose their hearing from chemotherapy." "Secondly, even if they might've heard of the indication, there is no way Jazz is looking at these companies."
If you are thinking that, we appreciate your candor and healthy skepticism, two invaluable traits for an investor. Digression aside, we're going to prove it to you.
After providing an overview of both companies, we'll go straight into the smoking gun by revealing the fascinating history and players intimately tying both Otonomy and Fennec to Jazz Pharmaceuticals.
Otonomy
Share Price:$12.25 a share
52-Week High:$19.38 a share
Market Capitalization: ~$370 million
We strongly recommend fellow contributor Jonathan Faison's >Focus Piece for a more thorough overview of Otonomy.
Otonomy is a biotech company strictly focused on the development and commercialization of novel therapeutics targeting diseases and disorders of the ear. While this therapeutic focus may seem unsexy, the company has taken strides in establishing a deep pipeline in otology.
Otonomy's Pipeline
The depth of the company's pipeline is evident in the following slide from a presentation earlier this year.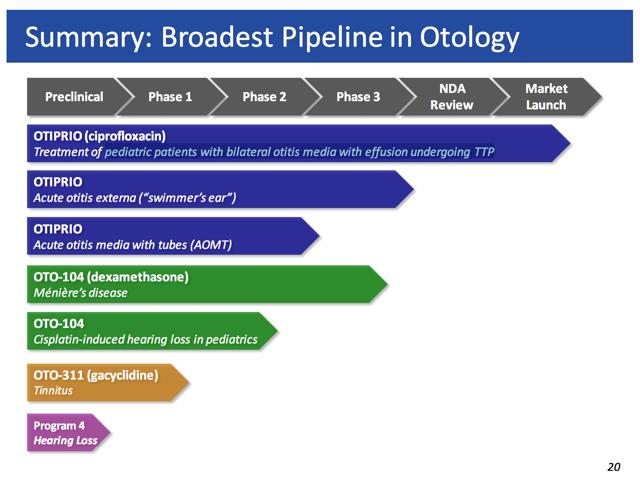 >
Source: Otonomy Corporate Presentation January 9, 2017
Although impressive, the value of this pipeline can be difficult to assess due to its expansive nature. To develop a better understanding, here is our breakdown of the company's commercial therapy and its multiple assets in phase 2 and 3.
1) Commercial Stage: OTIPRIO In Pediatric Ear Tube Surgery
Otonomy's first FDA-approved therapeutic is OTIPRIO for the treatment of pediatric patients with bilateral otitis media with effusion undergoing TTP surgery. After receiving FDA approval in December of 2015, OTIPRIO began sales in March 2016 as the only product approved for its indication.
According to the American Academy of Otolaryngology, TTP surgery is the most common ambulatory surgery performed on children. Each year, over 850,000 TTP procedures are performed on pediatric patients in the United States. Typically, tubes are placed in both ears (bilateral) in order to better ventilate the middle ear and to enable the administration of topical antibiotics to treat the infection.
While unapproved by the FDA for this indication, antibiotic eardrops (usually ciprofloxacin) currently represent the primary treatment used during TTP surgery. Unfortunately, eardrops are ill suited for young children, resulting in discomfort that leads to non-compliant dosing regimens that impact the efficacy of the antibiotic in treating the underlying infection.
Fortunately, physicians can now expect to treat the infection by administering a single injection of OTIPRIO to their pediatric patient's inner ear canal. This is made possible from its design as a sustained release, or single dose, formulation of ciprofloxacin. In comparison to eardrops that are typically administered three times a day over a 10-day period, OTIPRIO represents a meaningful advance in the standard of care, boasting a drastically shorter administration period and the elimination of once-salient risk of non-compliant dosing.
Despite these advantages, sales of OTIPRIO were relatively modest for the year of 2016. As the company's only commercial stage asset, OTIPRIO was responsible for the entirety of Otonomy's revenue with only$700,000 in net sales for the year of 2016. While the commercial launch has been slow, the company estimates the potential market demand for OTIPRIO to be 2.3 million vials per year in the US.
Applying their wholesale acquisition cost of $283.20 per vial results in a peak sales opportunity of $651 million. However, an aggressive sales strategy could involve dropping the price to match the wholesale acquisition cost of approximately $200 per unit of the leading branded eardrop product.
Competitive pricing could allow for swift scaling to $460 million in peak yearly sales.
2) Phase 3 Complete, New Indication for OTIPRIO in Swimmer's Ear
Leveraging the platform of its sustained release ciprofloxacin formulation, Otonomy expects to submit a supplemental New Drug Application (sNDA) with the FDA in the first half of this year. This follows the success of OTIPRIO in its Phase 3 clinical trial in patients with Acute Otitis Externa, or Swimmer's Ear. Early this year, the company reported having met the primary endpoint by showing a statistically significant increase in the clinical cure rate compared to no treatment.
Based on the timeline of the already approved indication, successful sNDA filing could result in commercial launch beginning before the end of this year. With the Phase 3 study containing data on both pediatric and adult patients, the addressable patient population is substantial.
Swimmer's ear is a common bacterial infection of the external ear canal, with nearly 4 million episodes reported each year in the US. Similar to TTP surgery, antibiotic eardrops are the current standard of care, requiring several daily applications over the course of a week. As a result, we expect similar economics to the indication discussed above. If Otonomy were able to capture the entirety of the 4 million episodes reported in the US, a wholesale cost of $240 per vial would result in
$960 million in sales.
3) Phase 2 Complete, OTIPRIO In Pediatric Patients with Acute Otitis Media with Tympanostomy Tubes (AOMT)
Pediatric patients with AOMT are the final indication Otonomy is looking to address with OTIPRIO. In October of last year, the company announced the successful completion of a Phase 2 clinical trial that evaluated a single injection of OTIPRIO for treatment of pediatric patients with AOMT. As a dose-ranging study, both doses were well-tolerated and achieved statistically significant cure rates over sham.
Based on these results, Otonomy expects the completion of an End-of-Phase 2 meeting with the FDA in the first half of this year. During this meeting, Otonomy will better understand the requirements in advancing its OTIPRIO program into Phase 3 in Pediatric AOMT.
Clear guidance and a green light from the FDA could quickly yield another NDA-ready asset for Otonomy. This is in consideration of the extremely fast study completion demonstrated by OTIPRIO in earlier indications, notably the AOE indication, for which the Phase 3 clinical trial completed within 6 months.
When a child who already has ear tubes develops an ear infection, this is referred to as AOMT. Roughly 30% of children with ear tubes go on to develop a subsequent infection. Despite being substantially smaller than the ear tube surgery indication, pediatric AOMT is an attractive low-hanging fruit, with a market opportunity just under $200 million.
4) Phase 3 Completion in 2017 and Fast Track Designation for OTO-104 In Meniere's disease
Otonomy's paradigm for drug development is fairly simple; they love to develop long lasting formulations of well-established therapeutics for specific indications. OTIPRIO is to the antibiotic ciprofloxacin as OTO-104 is to the corticosteroid dexamethasone.
You may be surprised to hear that
OTO-104 predates OTIPRIO. While OTIPRIO, or OTO-201, breezed through its clinical trials, OTO-104 has been an eight-year exercise in patience. Starting in December of 2009, Otonomy submitted their IND to begin the clinical development of OTO-104 for the treatment of vertigo associated with Meniere's disease. The company even persevered through a partial and full clinical hold from 2012-2014, as the FDA raised concerns about adverse effects found in a preclinical study. Fortunately, the wait appears to be nearly over. With data from two Phase 3 trials expected to read out in the second half of this year,
positive results could lead Otonomy to file a NDA in early 2018, handsomely rewarding years of patience.
The etiology of Meniere's disease is poorly understood and there is no known cure.
Over 600,000 patients diagnosed in the United States suffer from this chronic condition characterized by acute vertigo attacks, tinnitus, fluctuating hearing loss, and a feeling of aural fullness. Despite the debilitating nature of this disease, this significant patient population remains unaddressed.
There are currently no FDA-approved treatments. Typical treatment revolves around a farcical low-salt diet and off-label use of diuretics. Although steroids have been used to some success in a subset of patients with severe symptoms, a number of these patients fail to respond to treatment. Demonstrating how debilitating these symptoms can get, a number of unresponsive patients have elected to completely remove their inner ears through surgery or chemical procedure, becoming completely deaf in the process.
The clinical outlook for OTO-104 in Meniere's disease appears to be fairly promising. Although the therapeutic barely missed statistical significance in the primary endpoint of reduction in vertigo frequency in its Phase 2b trial, the FDA acknowledged the benefit displayed in multiple secondary endpoints and green lit the two parallel Phase 3 trials that are expected to read out later this year.
With Fast Track Designation by the FDA, rolling review may accelerate the approval process for OTO-104 in Meniere's disease.
It is highly likely that Otonomy will be the first to market with a FDA-approved therapeutic. The closest competitor is a European private company, Synphora AB, currently conducting a Phase 2/3 clinical trial for its formulation of latanoprost. Otonomy's preliminary estimate attributes a price of >$1,000 per treatment of OTO-104.
While this represents a $600 million market, this should be taken as a conservative estimate. When accounting for the highly debilitative nature of Meniere's disease and its status as an unmet medical need, it stands to reason that Otonomy will be able to command premium pricing for OTO-104.
5) Phase 2 Enrollment for OTO-104 in Cisplatin Induced Hearing Loss in Pediatric Patients
Finally, Otonomy's last Phase 2/3 asset is OTO-104 for Cisplatin induced hearing loss in pediatric patients. A Phase 2 study began in November 2016, and is currently enrolling patients with ages 6 months to 21 years. Although the company expects to enroll up to 60 patients in 8-10 oncology centers, the small patient population has made for a lengthy enrollment period- where the company was unable to announce enrollment of the first patients until mid January 2017. Assuming enrollment completes, the trial will administer an intratympanic injection of OTO-104 in one ear prior to each of the first three cisplatin treatment cycles, and assess hearing of both ears throughout and following the last treatment cycle.
Expected to complete in June 2018, the results should give a clear answer towards the efficacy of OTO-104 in this indication.
Interestingly, when Otonomy announced the results of preclinical studies of OTO-104 in 2011, there was no mention of the pediatric patient population regarding protection from cisplatin related hearing loss. In fact, it wasn't until the start of 2016, where Otonomy first mentioned OTO-104 for the treatment of pediatric patients.
Otonomy's 4Q2016 and FY2016 Results and Call; Lackluster OTIPRIO Sales And a Focus on OTO-104
Last month, Otonomy reported its financial results for the Fourth Quarter and Full year of 2016. They ended the year with
$196 million in cash, which management expects to last two years given a yearly burn rate of $85-90 million. In order to address its lackluster sales, a large potion of the press release was about the launch and "progress" of OTIPRIO, citing commercial efforts such as product presentations to physicians, surveys, and new billing codes for payment.
We believe the launch has been disappointing for the management team. Marked by Otonomy's chief commercial officer leaving the company, and reduction of the sales force from 40 to 20 sales reps. Although Otonomy is trying to salvage the situation by hiring David Kaplan, who grew sales of EXPAREL from $50M to over $250M, as VP of sales, the company is clearly transitioning its focus towards OTO-104. We think this sentiment is clearly expressed in the earnings call for this period.
During the call, President and CEO David Weber stated "In addition, we initiated a Phase 2 Trial for OTO 104 in patients at risk for cisplatin-induced hearing loss, which represents an important unmet medical need with no available therapies…. Given the large attractive commercial opportunity for OTO 104 and Meniere's Disease, we believe that these trial results represent the single most significant value driver for Otonomy in the near-term." Ken Cacciatore from Cowen & Co. inquired about OTO-104 during the Q&A session, to which David replied, "And I think finally, because we re addressing these highly unmet medical conditions with high unmet needs, such as Meniere's disease, such as chemotherapy induced hearing loss, we believe the product will represent a tremendous value and obviously have a premium pricing connected with it."
This is substantiated by the 2016 10-K, which reveals a massive ramp in development costs for OTO-104.

>
The company's deck during their later presentation at Cowen and Company was also completely centered on OTO-104, which took up the first eight pages. Which leads us to believe that the transition is in full swing.
Risks
Given Otonomy's extensive pipeline containing both commercial and clinical assets, risk is diversified across multiple considerations.
The company's strong cash position of $196 million relative to its yearly burn rate of $85-90 million minimizes any near term financing risk. We believe clinical risk for the company is concentrated in its OTO-104 indications in light of the imminent sNDA for OTIPRIO. Failure to meet the endpoints again in its pivotal Phase 3 studies for Meniere's disease or safety/efficacy concerns raised in the Phase 2 study for pediatric cisplatin-related hearing loss could materially impact share price. Although development risk is a non-consideration, marketing risk is salient given the lukewarm sales of OTIPRIO reported thus far. Liquidity risk is also a non-issue given an average dollar volume above $2.4 million.
Milestones
sNDA submission for OTIPRIO label expansion and commercialization in 2017

End of Phase 2 Meeting for OTIPRIO in AOMT and Phase 3 start in 2017

Ramp in OTIPRIO sales

Data Readout of two Phase 3 trials for OTO-104 in Meniere's Disease in 2H2017

Patient enrollment completion in Phase 2 trial of OTO-104 in pediatric cisplatin induced hearing loss

OTO-104 NDA filing for Meniere's Disease in 1H2018

Data Readout of OTO-104 Phase 2 Trial in 2H2018
Fennec Pharmaceuticals
Share Price:$3.10 a share
52-Week High:$3.14 a share
Market Capitalization: ~$42.2 million
Fennec Pharmaceuticals, formerly known as Adherex, is a much smaller biotech company focused on the development of Sodium Thiosulfate (STS) for the prevention of ototoxicity from cisplatin in pediatric patients.
Pipeline
Enrollment Completion in Two Phase 3 Studies of STS for Pediatric Cisplatin-Induced Hearing Loss with Orphan Drug Designation.
In comparison to Otonomy's extensive pipeline, Fennec Pharmaceuticals only has one clinical asset in development. This being said, Fennec's STS is much further along in clinical testing than OTO-104 for the same indication of cisplatin induced hearing loss in pediatric patients.
In 2004, Fennec received Orphan Drug Designation in the U.S. for the use of STS in the prevention of platinum-induced ototoxicity in pediatric patients, providing seven and a half years of market exclusivity upon regulatory approval. There is also the potential for European market exclusivity for 10 years.
STS entered into two separate Phase 3 studies, split between the Children's Oncology Group (COG) and the International Childhood Liver Tumors Strategy Group (SIOPEL).
COG The Clinical Oncology Group Protocol

>ACCL0431
- Complete
COG's Phase 3 trial with STS in the prevention of pediatric hearing loss from cisplatin chemotherapy began in March 2008 (COG ACCL0431). The study was a multi-centered, randomized trial that evaluated the efficacy and safety of STS in newly diagnosed germ cell, liver (hepatoblastoma), brain (medulloblastoma), nerve tissue (neuroblastoma), or bone (osteosarcoma) cancers. Enrollment completed in the first quarter of 2012 with 131 pediatric patients.
Subjects were randomized between control (no treatment) and treatment with STS through IV over 15 minutes 6 hours after each dosing of cisplatin. Hearing was measured using standard audiometry and revealed a significant reduction in hearing loss vs. control (p=0.004), this achieved primary efficacy endpoint of greater than 50% improvement in hearing.
That being said, post-enrollment follow-up revealed troubling OS of 77% vs. 88.9% for control. Post-hoc analysis of disease revealed that the reduction in OS stemmed from patients with disseminated or metastatic disease (55.9% vs. 88.1%). For subjects with localized disease, OS was nearly identical with 89.0% compared to 89.5% in control group. The Lancet published an article on the completed study in its Oncology journal in January 2017, revealing substantial protection against hearing loss in children less than five years of age
(73.3% (Control) vs. 21.4%), and nearly identical EFS/OS in patients with localized disease.
2) SIOPEL 6 - Enrollment Complete: Final Efficacy and Safety in Q4 2017
Operating under the umbrella of the International Society of Pediatric Oncology, SIOPEL began the SIOPEL 6 Phase 3 trial in October 2007. Titled, "A Multicenter Open label Randomized Phase III Trial of the Efficacy of Sodium Thiosulfate in Reducing Ototoxicity in Patients Receiving Cisplatin Chemotherapy for Standard Risk Hepatoblastoma", the study evaluated STS's otoprotective abilities in an ultra rare pediatric cancer (hepatoblastoma) treated exclusively by cisplatin.
Naturally, enrollment was the longest part of the trial, taking until December 2014 to complete. Due to this "rolling enrollment", audiometric results were evaluated on an ongoing basis after each child aged 3.5 years following treatment.
Fortunately, SIOPEL conducted and funded all clinical activities for the lengthy study. The study took place in 45 sites across 12 countries that enrolled a total of 109 evaluable patients. Given the deadly nature of cancer, interim efficacy results on response to chemotherapy were evaluated after every 20 patients and reviewed by an Independent Data Monitoring Committee (IDMC). The IDMC is put into trials to halt them in the case of significant adverse effects; in the SIOPEL study- the IDMC assessed STS on its effect on the efficacy of cisplatin therapy and safety based on protocol. After each tranche of 20 patients (20,40,60, 80, 100) the IDMC recommended the continuation of the study based on the data collected up to and including the final safety review. With the completion of patient recruitment in December 2014, results for the audiology primary endpoint should be tested with the final readout of data near the end of this year.
Interim results have been announced and presented at key conferences such as ASCO in 2015 and 2016 and SIOP in 2016. SIOPEL 6 worked with newly diagnosed patients with standard risk hepatoblastoma were treated with 4 chemotherapy courses every 2 weeks before surgery and 2 courses after surgery. Recruited patients were randomly assigned to receive cisplatin alone or cisplatin followed by STS administration by IV 6 hours after cisplatin administration completion.
Tumor response was then assessed after 2 and 4 cycles pre-operative with serum AFP and liver imaging, in case of progression after 2 cycles, STS was stopped and doxorubicin was administered over 48 hours as a rescue agent. Preliminary efficacy results reported at ASCO 2016 indicated STS was safe to deliver for otoprotection in standard risk hepatoblastoma(SR-HB)- end treatment for 109 patients (52 Cisplatin, 57 Cisplatin + STS) resulted in the following distribution of complete response/partial response/progressive disease:
Cisplatin 85%/8%/5% and Cisplatin + STS 91%/9%/0%. More importantly, review of pure tone audiometry at 3.5 years of age or higher in the first 68 patients were encouraging. Median follow up at 34 months resulted in
2 year OS of 91.4% in Cisplatin alone compared to 97.7% in Cisplatin + STS.
SIOPEL 6 data was updated in the third quarter of last year with the presentation at SIOP 2016. It's clear why the study took so long to enroll given the study population enrolled children 1 month old to 18 years old with newly diagnosed SR-HB, a cancer with an incidence rate of 11/1M for children <1 year, and 6.5/1,000,000 for children 1-4 years with OS >90%.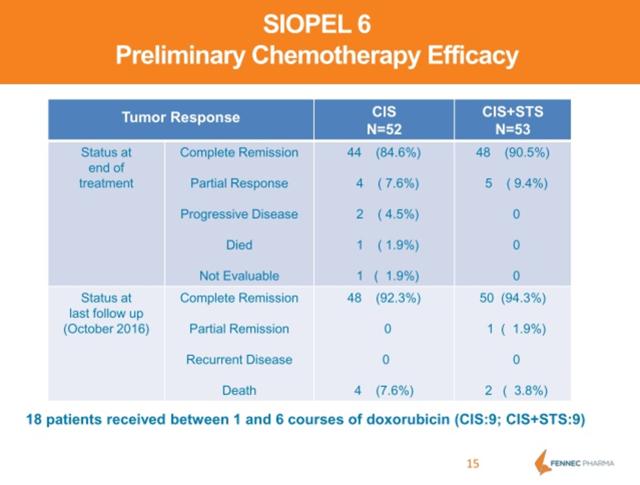 >
The data largely remained the same, boding well for the final readout at the end of the year.
Positive data readout should allow the company to file their NDA for their orphan indication in the first half of 2018.
Recent Developments
In 2016, Fennec completed an equity financing for $5 million, giving it a runway to the first quarter of 2018 at the current yearly burn rate of $1.5 million. The company continued to build out its distinguished board of directors (part of the smoking gun), and was able to have its interim STS data presented at industry leading meetings such as ASCO and SIOP.
Risks
Fennec's ultra-focused clinical strategy makes for a rather unique risk profile.
Financing/Dilution Risk- Minimal
Fennec reported $3.9 million in cash on its balance sheet at the end of 2016. Having successfully raised$5 million in May 2016, the burn rate implies low near-term financing risk in that the company should be able to reach at least the 1 st quarter of 2018 or the NDA filing period without having to raise additional cash.
Moreover, the capital structure looks to be extremely clean based on the 10Q for Q3 2016, with warrants priced at $1.50, stock options priced at CAD $2.38 and USD $1.93 all flushed out. With only 366,000 warrants priced at $3.60 remaining, there is no further dilution risk.
Clinical Risk- Mild to Moderate
With one Phase 3 trial already completed, and final data readout expected for the other trial by end of 2017, the clinical risk for STS is substantially lower compared to many other therapeutics in Phase 2 and 3 clinical trials. Keep in mind; Fennec's Phase 3 trials took an extraordinarily long period of time (over 8 years each) due to the extremely small patient population. As a result, the company and the oncology groups conducting the trials have already published a substantial amount of the interim data.
The concerns for STS are very straightforward. The FDA will be looking to see if STS administration leads to a tumor protecting effect and if STS administration can meaningfully protect against cisplatin induced hearing loss for pediatric patients. Strong tumor protecting effects would be disastrous for the company, however based on the post-hoc analysis of the COG study and the IDMC's ongoing recommendation for continuation of the SIOPEL 6 study; STS administration has been met well in localized cancers. In particular, we'd like to draw focus to the well thought out nature of the study design for SIOPEL 6. The study population took over 7 years to enroll because hepatoblastoma is a very rare liver cancer occurring in infants and children. With survival rates approaching 100% in cases of complete tumor removal and adjuvant chemotherapy where cisplatin is a monotherapy, this cancer was perfectly suited to determining STS' impact on survival outcomes. On STS' otoprotection, data from the COG study indicates not only strong effectiveness, but also especially in patients under the age of 5. The data reported thus far appears to indicate a mild to moderate clinical risk.
Development Risk- None
Fennec only has one asset, and the asset is nearly complete in Phase 3 testing. Based on the history of the company, we find it very unlikely that the management team will elect to develop a new asset before the commercialization of STS in pediatric cisplatin-induced hearing loss.
Marketing Risk- At least a year down the road, but minimal
Back by years of data, Cisplatin's problematic risk/benefit profile has been presented on at leading oncology conferences such as SIOP, ASCO, and ESMO.
With cisplatin-induced ototoxicity's substantial impact to quality of life and heavy socioeconomic burden beginning to enter the canon for discussion at pediatric oncology congresses, doctors operating within this patient population should be well aware of the benefit an approved therapeutic would bring to their patients on cisplatin.
Moreover, with a glut of peer-reviewed research confirming a clear link between cisplatin-related hearing loss and poor academic performance throughout patient life- the decision to begin using an approved therapy for pediatric cisplatin-ototoxicity should be a no-brainer decision for any concerned parent.
Assuming the empathies of a parent or medical professional overlooking a child, we believe FDA approval for a therapy addressing this indication would be met by incredibly fast adoption rates, and represents a substantial commercial opportunity for the company able to address it. Competitive risk is also mitigated significantly due to Orphan drug designation.
Liquidity Risk - Substantial to Severe
We believe the majority of Fennec's risk is concentrated in liquidity risk. With less than 2,000 shares traded on average over the last three months, investors may find it very difficult to accumulate a position, let alone exit their position at an acceptable price point. While the stock trades nearly two times more on the Toronto stock exchange under FRX.TO, liquidity is still severely lacking.
While it's easy to say that the lack of liquidity stems from a lack of investor awareness, it may be more accurate to say that no shares may be in the float. Fennec only has 13.6 million shares outstanding,
of which 97%
is owned by insiders and institutions. This level of institutional ownership is unheard of in small-cap biotech, and is typically only seen in VC-stage companies. 97% ownership means only 480,000 shares are available to be traded in the open market, which provides a much better explanation for how illiquid Fennec is. On this end, if management is looking to increase liquidity over the following year, it may be wise to conduct a public raise after or before the final data readout of the SIOPEL 6 data, which would organically introduce shares into the float while bolstering its cash position for post-NDA activities.
Milestones
FDA & EMA Regulatory Development Meetings 2017

SIOPEL 6 Final Efficacy and Safety Data Readout Q4 2017

NDA/MAA Submissions for Commercialization 2018?

Possible Raise to Increase Liquidity and Cash 2017-2018
The Smoking Gun: Management And Board of Directors Activity In Both Companies
With the groundwork complete, it's time to reveal the players behind both of these companies. We think it's safe to preface this by stating that given the tremendous institutional ownership in both companies
(90% in Otonomy and 97% in Fennec) relative to each company's lack of liquidity (relative to valuation and pipeline progress),
the smart money has already taken substantial positions in Otonomy and Fennec. That being said, let's jump into it.
The First Connection to Jazz: Iain McGill and Otonomy
As mentioned earlier, OTO-104 sat in preclinical limbo for any indication outside of Meniere's disease for years. In the Company's S-1 filing in 2014, OTO-104's preclinical development program makes note of otoprotective effects when administered prior to chemotherapeutics. Several years later, at the start of 2016, Otonomy press released their desire to move OTO-104 into clinical studies for the indication of cisplatin-induced hearing loss in pediatric patients.
We find this particularly interesting based on the lengthy period where the company discussed OTO-104 strictly for the treatment of Meniere's disease and never in a pediatric or cisplatin-chemotherapy-receiving patient setting.
What's intriguing is that a few months after that press release, Iain McGill was appointed to the company's Board of Directors. Disclosed in the financial results and corporate update for the year of 2016, the timing and nature of this appointment is of particular interest. Who is Iain McGill?
Jazz's

>webpage
of its leadership team reveals that Iain McGill is the Senior Vice President of Jazz Pharmaceuticals (Europe and Rest of World). Before this role, Mr. McGill served as head of EUSA Pharma from 2014-2015 and as Chief Commercial Officer of EUSA Pharma from 2012-2014, until he joined the management team of Jazz Pharmaceuticals in connection to its acquisition of EUSA Pharma.
Since Iain McGill joined the board, Otonomy began shifting the focus towards the possibility in OTO-104. Where in the same Q2 2016 announcement, Otonomy expected the initiation of a Phase 2 feasibility trial for OTO-104 in the second half of 2016. Unfortunately, given the small patient population- announcement of patient enrollment initiation arrived half a year later.
Right before McGill's appointment to the board, Otonomy successfully completed a One-year Multiple-Dose Trial that tested the clinical safety of OTO-104 in Meniere's Disease patients. Given that the drug and method of administration remains virtually identical for pediatric cisplatin-induced hearing loss, it would not be a stretch to say that Iain McGill may have elected to join the board after these results to validate OTO-104.
We believe the timing of his entry strongly indicates an interest in OTO-104 for its new indication in light of the history of the company. Up until his entry, Otonomy continued to report positive developments for OTO-104 in Meniere's and OTIPRIO in Ear Tube indications for several years. It is highly suspect that Iain would elect to join the Board right after the safety data for OTO-104 was released in the same year where the company reported initiation of OTO-104 towards pediatric oncology.
Iain's pedigree from EUSA Pharma lends credit to our hypothesis given that EUSA Pharma was a company that developed oncology and oncology-supportive care products. EUSA's largest product is Erwinaze, an orphan drug treating patients with acute lymphoblastic leukemia under the age of 20 who are hypersensitive to E. coli-derived asparaginase.

The parallels between EUSA's lead indication and cisplatin-induced hearing loss in pediatric patients is uncanny.
Fennec's Board Trifecta: Khalid Islam, Adrian Haigh, and Marco Brughera (All with Exits from Jazz)
A company's board is usually a good indicator for its future success or failure. To this end, we find Fennec's Board of Directors to be particularly impressive.
Of its 5 members, 4 have been part of a $500million - $1billion exits in biotech,

in which 3 -Khalid Islam, Adrian Haigh, and Marco Brughera personally cashed out from Jazz Pharmaceuticals.
Khalid Islam- Chairman
Prior to joining Fennec, Dr. Khalid Islam was the Chairman and CEO at Gentium S.p.A., a company formerly listed on the NASDAQ. Under his tenure,
Gentium's valuation grew from $25 million until its all-cash

>$1 billion acquisition
from Jazz Pharmaceuticals in 2014.
Jazz acquired Gentium for its lead drug, Defitelio (defibrotide), which treated the orphan indication of severe hepatic veno-occlusive disease (VOD) in adults and children undergoing hematopoietic stem cell transplantation (HSCT). This highlights Jazz's recent focus on pediatric oncology, given that VOD is a fairly common occurrence for pediatric patients undergoing HSCT for various cancers. At the time of the acquisition, Jazz CEO Bruce Cozadd stated "[the acquisition] would complement our clinical experience in hematology/oncology
and our expertise in reaching targeted physicians who treat serious medical conditions."
If you'll recall, near the beginning of our analysis, Defitelio was mentioned in Jazz's most recent call- especially in Barclays' Douglas Tsao's question. We believe that the adoption process of Defitelio taught Jazz's management the opportunity in pediatric markets in relation to higher occurrence rates and adoption relative to specific diseases.
As Jazz's acquisition of Gentium wrapped up, Dr. Khalid Islam joined Fennec's Board of Directors in April 2014. He then became Chairman of the Board in at the end of the next year.
Adrian Haigh- Director
Alongside Khalid, Adrian Haigh joined Fennec's board based on their nomination from one of Fennec's lead institutional investors, Manchester Management.
Adrian also hails from Gentium, having served as Senior Vice President of commercial operations and Chief Operating Officer. Haigh played a pivotal role in the sale of Gentium to Jazz Pharma at its $1 billion valuation. In addition to joining the Board, Adrian Haigh joined the leadership team of PTC Therapeutics (NASDAQ:PTCT) to help support the launch of Translarna in DMD. Following his addition to PTC Therapeutics, the valuation of PTCT climbed to over $2 billion within 12 months.
Marco Brughera - Director
Marco Brughera played a fascinating role in the story of Gentium, especially in the year of Gentium's acquisition.
When Jazz acquired Gentium for Defibrotide, Sigma-Tau Pharmaceuticals held the rights to the drug in the Americas through a pre-existing agreement with Gentium. In the process of finalizing the acquisition, Sigma-Tau secured an up-front payment of $75 million, with the eligibility to receive further milestone payments of up to $175 million based on NDA filing approval and the timing of the approval.
Amazingly, Sigma-Tau went even further with their US defibrotide rights, commercially reviving it to successfully out-license it again as ONCASPAR from Jazz Pharma to Baxalta (Baxter Spin-off that later got acquired by Shire) for around

>$900 million

,

bring their total value in their Gentium investment above $1 billion USD.
Spearheading this initiative for Sigma-Tau was Marco Brughera, who then served as CEO and Global Head of Sigma-Tau Rare Disease. Sigma-Tau Rare Disease was relaunched as Leadiant Biosciences, in which Brughera serves as Director, CEO and Global Head. Brughera is marked by deep involvement in the development of a company, where he formerly held a position on the Board of Gentium leading up to its acquisition.
We expect a similar level of involvement is setting up in Fennec Pharma, especially given Marco Brughera's appointment to the Board of Directors in August 2016. His appointment to the Board was preceded by significant investment into the company by Leadiant.
The previously discussed private placement of $5 million turned Leadiant into an Insider with over 19% of the company's issued and outstanding shares.
Who is the Sigma-Tau Group? Sigma-Tau is a private Italian Pharmaceutical company with yearly revenue over $500 million.
We believe their involvement and investment into Fennec is incredibly validating given Sigma-Tau's pioneering of the orphan disease space. You may not be aware, but Sigma-Tau had the second product ever to obtain "orphan drug designation" by the FDA, and is seen by many as the first truly orphan drug centered company with a portfolio of over eight products for the treatment of rare and neglected diseases. Leadiant is Sigma-Tau's wholly owned subsidiary that is focused on research and M&A activity of novel and effective therapies for orphan indications.
Chris Rallis- Unrelated to Jazz, But Worth Noting
Fennec's last independent board member Chris Rallis is also part of the Multi-hundred-billion dollar biotech exit club. Before joining as a director in 2011,
Mr. Rallis was the President and COO of

Triangle Pharmaceuticals

, better known as the company that had the Hepatitis B drug that turned Gilead Sciences into the multi-billion dollar giant it is today. Gilead acquired Triangle in January 2003 for $464 million.
Too Many Coincidences Means They're Not Just Coincidences
Biotech is a small, small world, and we're almost certain that Jazz has kept its eye on the executives behind companies it has acquired. From this perspective, Iain's involvement with Otonomy almost seems like Jazz's reactionary measure against the positions taken by the board members in Fennec Pharmaceuticals. Khalid Islam, Adrian Haigh, and Marco Brughera were the pivotal players involved in the Gentium-Jazz transaction, and all three have taken a firm position and vested interest in Fennec's lead indication of cisplatin-induced hearing loss in pediatric patients.
In terms of this indication, Fennec leads clinical development, with Phase 3 nearly complete and holds an exclusive orphan drug designation. Beyond that, Islam, Haigh, and Brughera all took their seat on Fennec's Board before McGill's appointment to Otonomy's Board. This, in addition to the out of the blue nature of Otonomy's foray into pediatric cisplatin-induced ototoxicity in 2016, all these signs point towards Jazz's interest in this space.
How Much Should or Will Jazz Pay To Acquire and When?
We believe the evidence is overwhelmingly in favor of Jazz making an acquisition for this indication. That being said, the question becomes what time frame and for how much?
Before answering those two questions, we seriously felt the need to address the Celator acquisition in 2016. In all our years of looking at biotech companies, let alone a biotech winner, the story of Celator is quite possibly the strangest one we have ever seen. The chart below says it all.

>
This is one of those charts that seem weirder the longer you stare at it. If you're asking what happened… it's simple- nearly every investor was dead wrong about Celator until it was too late. Nobody anticipated the company to succeed on its Phase 3 trial for VYXEOS on the simple basis of the formerly, long-standing, Feuerstein-Ratain Rule. The rule states no company with a market cap below $300 million would conduct a positive phase 3 clinical Trial in oncology, while the data supported this, Celator shattered this rule.
Although Jazz acquired Celator for $1.5 billion, what's striking is that the company traded at a $58 million valuation for years, and actually traded to its 52-week low right before the release of positive Phase 3 data. The idea behind this is that if Jazz knew about Celator earlier, or perhaps, was more hands on in their due diligence by possibly taking a Board seat, Jazz could've avoided paying as much as $1.5 billion to acquire the company. They could've acquired the company well in advance of the read out, or even accumulated shares leading into it to lower the cost basis. It's a great lesson to be had in biotech investing, and one- we believe Jazz took to heart, evidenced by Iain's occupation of a board seat in Otonomy after the acquisition of Celator.
Final Thoughts
Jazz Pharmaceuticals hasn't changed a thing about its business model. They love to buy late stage clinical companies and nurture them to commercialization on a regular basis.
And it works. The cyclical nature of its business revolves around its robust access to cash from credit facilities and its own earnings, and Jazz's cash position appears to get stronger each and every year. If there's one thing to remember, it's this:
No M&A = No Jazz
Just look at Jazz's last call, they're M&A junkies. That being said, it's been a learning process for the company. While Jazz may have started out intending to be an orphan drug company, the past few acquisitions indicate that the management team has been honing down on what kind of orphan indications it likes best. At this given time, it strongly appears that Jazz has found a niche and interest in orphan indications dealing with pediatric oncology, especially therapeutics that support or improve the current standard of care.
Which is exactly the case for Otonomy and Fennec.
Jazz entirely has the means to pull the trigger on acquiring either one of them right now, even at a double of Otonomy's valuation. That being said, the strong institutional ownership in both companies might command a substantial premium. If we are assuming that the indication we proposed is really the one Jazz is interested in, then the time frame for an acquisition would be from now until the middle of next year, based on the final data readout and subsequent NDA filing for Fennec Pharmaceuticals. While this might be inappropriate for Otonomy due to its expansive pipeline, strong enough interest could drive Otonomy to divest that indication to Jazz. If Jazz is confident enough about the therapeutic asset, acquisition prior to data readout should be significantly cheaper.
Pricing the treatment for pediatric cisplatin-induced ototoxicity at $100,000 or a tenth of the average total socioeconomic costs of early hearing loss, results in a$200 million opportunity in the US and $700 million globally. Applying the same economics used during Jazz's acquisition of EUSA Pharma
implies an acquisition price in the ballpark of $450-750 million strictly on the pediatric indication alone- entirely within the $826 million in cash that Jazz has on hand. Assuming both therapeutics are effective and safe, the only risk to this thesis is if a miraculous replacement to cisplatin is found and approved, which to our knowledge- is not happening anytime soon.
This article is part of >Seeking Alpha PRO. PRO members receive exclusive access to Seeking Alpha's best ideas and professional tools to fully leverage the platform.
Disclosure: I am/we are long FENCF, OTIC. I wrote this article myself, and it expresses my own opinions. I am not receiving compensation for it (other than from Seeking Alpha). I have no business relationship with any company whose stock is mentioned in this article.
Editor's Note: This article covers one or more microcap stocks. Please be aware of the risks associated with these stocks.
Source : https://seekingalpha.com/article/4060793-jazz-pharma-play-acquisition-riffs-notes-point-2-otology-companies