The advent of cloud computing has been revolutionary for businesses over the past decade, and in 2017, Statista pegged the overall market at a staggering $130 billion. Clearly, IT departments have fallen in love with the cloud and for good reason; in comparison, on-premise data centers are expensive and difficult to maintain. However, the reality is that the cloud is not suitable for every computing need. As a result, the modern data center has become a hybrid of both on-premise technology and the cloud. Being able to pick and choose is cost efficient and helps businesses solve problems more quickly. This is where Nutanix (NASDAQ:NTNX) thrives.
Investment Thesis
Nutanix's adaptability, customer satisfaction and strong software billings growth make this an interesting IT investment.
Adaptability
Nutanix specializes in hyper-converged infrastructure (HCI), essentially "a data center in a box." The company's technology combines all the components of a data center, including computing, storage, networking and virtualization. Nutanix brands itself as an "enterprise cloud operating system," which means its software enables IT departments to seamlessly utilize a hybrid computing environment.
To give a surface-level example, picture your smartphone. If you have an iPhone, the operating system allows you to open apps, send messages and so on. Imagine using the cloud to access and save huge files while being able to save high security files right on your phone. Broadly, that is the gist behind Nutanix's operating system, you get the best of both on-premise and multi-cloud environments.
This operating system is all wrapped up in commodity hardware boxes. As a somewhat recent development, the company announced three quarters ago that it would stop reporting revenues from hardware and focus on software and services revenues. This was a welcome change because Nutanix's bread and butter is really in the software.
Its technology works with any off-the-shelf hardware and this is one of the main reasons for the company's success. Nutanix's customers can continually update their systems with the latest hardware while maintaining the software's capabilities. This flexibility is key because customers are not locked into expensive, proprietary hardware deals.
Nutanix pioneered the hyper-converged space and is a Gartner leader, though some reports have the company second-fiddle to DellEMC. But Nutanix is not settling. In its most recent press release, management announced three new products, including its first SaaS offering. Moreover, in the last two reports, Nutanix publicized two new acquisitions that it would integrate into its current and new product innovations.
All that is to say that Nutanix has had a history of adapting to the ever-changing market environment. From creating the product category to begin with to changing business models during a high-growth phase to continuously innovating and pleasing customers, this company has shown it moves quickly.
Customer Satisfaction And Strong Billings Growth
And it is clear Nutanix is solving a major problem. Total customer count ballooned from 1,168 in Q2 of 2015 to an epic 8,870 in Q2 of 2018. Started in just 2009, nine years later, the company has almost 9,700 paying customers. Plus, these customers love the product. Nutanix boasts a 92 NPS (net promoter score) out of 100, which is basically unheard of compared to the industry average of 54.
This love for the company has also translated into the financials. At the eighteen-month mark, Nutanix customers, on average, spend four times more than they did initially. In the latest quarter, revenues grew 40% year over year and in the same period operating losses narrowed from 22% of revenues to 12%. At first glance, year-over-year revenue growth appears to have decelerated quite a bit from the 70% range two years ago. But dig a little deeper and you realize this is because the company now excludes hardware revenues as mentioned.
img src="https://static.seekingalpha.com/uploads/2018/7/11/40360796-1531348417587821.png" width="468" height="315" data-width="640" data-height="430" data-og-image-twitter_small_card="true" data-og-image-twitter_large_card="true" data-og-image-twitter_image_post="true" data-og-image-msn="true" data-og-image-facebook="true" data-og-image-google_news="true" data-og-image-google_plus="true" data-og-image-linkdin="true"">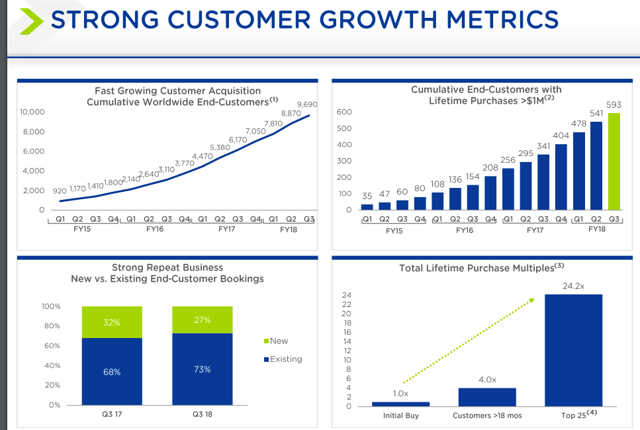 >
Source: Nutanix Investor Presentation
On the plus side, this is part of the reason why margins have been drastically improving. What is more, in the latest Investor Day presentation, the company noted if all sales reps were "fully-ramped," billings could have been $180 million more than the $509 million of the first two quarters. Importantly, billings growth, a more objective measure of demand, has been very strong. In the latest quarter, this number grew 50% to $351 million. And here's the kicker, software-specific billings grew even faster at a 62% clip. While not quite as spectacular as Zscaler's (NASDAQ:ZS) 73% billings growth, it is surely nothing to sneeze at.
To take a step back to focus on gross margins, the last report tallied them at 68%, up from 61% in the year prior. The company also guided on this front for Q4 all the way to 74% at the high end. If reached, this means that the dramatic shift in the business model will result in 1300 bps gross margin improvement in just 5 quarters. Obviously, revenue slows as a result, but that is still impressive.
Valuation And Risks
As the transition to a software-only model continues, investors may realize the valuation is still reasonable. Analysts estimate 2019 revenues to be about $1.35 billion and Nutanix's market cap tips the scale at $9.4 billion. Because of a convertible offering a few months back, the company has about $900 million in cash, resulting in an enterprise value of $8.5 billion.
In my opinion, Nutanix will beat analyst estimates on the revenue front, but let's use their numbers for some conservatism. This means the forward EV/sales ratio is around 6.3x. Granted, revenue was guided for 18% growth in Q4, but I believe that is serious sandbagging. But still, for being a category disruptor, 6x sales seems fairly reasonable.
The company is surely not without risks though. Nutanix is up against some deep-pocketed companies like VMware (NYSE:VMW) and DellEMC. Dell has even been shown to be taking market share. However, I suspect that Nutanix's move to software-only sales has something to do with the discrepancy.
Another risk is the unintended consequences of Nutanix's shift in business model. Foundational relationships with OEMs (original equipment manufacturers) could sour if Nutanix's move to software takes away business. Worded another way, since Nutanix has stopped selling hardware, those hardware providers that it was using could lose business and thereby start squeezing Nutanix. But Mr. Pandey, Nutanix's CEO made a comment on this point:
"So, one thing that has really [been] going well for us is during the transition we have not [angered] our OEM partners. That's very important, when you talk about change especially of this kind, the last three quarters have been immense change from the business model. We [have] done a really good job of saying it's a win-win, it's not a zero-sum game. And many of our large customers are actually working with our OEM partners to provide them the hardware that they actually prefer…"
All in all, Nutanix's move to software provides customers with the flexibility to choose OEMs. The best OEMs will win out so they shouldn't resort to blaming Nutanix for lost business.
To End
Nutanix's cloud operating system is solving the problems of the modern data center and it has the financials to back it up. Overall adaptability, narrowing losses, cash production, and customer fanaticism are all strong signals Nutanix is far from slowing down as an investment. This hyper-converged player is one to watch out for as businesses utilize hybrid data centers.
Author's Note: Just hit the big, orange "Follow" button to get these articles before they hit the paywall. Thanks so much for your time, it will never be taken for granted. Have yourself a fantastic day and happy investing! Woo-hoo!
Source : https://seekingalpha.com/article/4186880-nutanix-flashy-sounding-name-results-back
1509