Inept and incompetent former CEO, Jeffrey Immelt, and Nelson Peltz of Trian Fund together almost destroyed General Electric Co. (GE). The stock price plunge has given investors the opportunity to make a very long-term investment in GE at a bargain-basement price. While there will still be plenty of negatives impacting the stock price, GE is a long-term buy because of Africa. Yes, Africa.
Three Issues Killed GE
Being in the wrong sectors at the wrong time;
Worrying more about image and being politically correct than making profits; and
Terrible management policy decisions.
The first point about being in the wrong sectors, such as financial and energy, at the wrong time has already been covered extensively in the press.
The second point, however, has not received much coverage. Based on my personal contacts with GE, it seemed that Jeffrey Immelt was overly obsessed with how the well-educated, higher income class perceived GE. For example, the company downplayed certain of their industrial product groups, such as locomotives, and stressed their involvement in politically correct renewable energy. This, of course, ignores the fact that the renewable energy business is much less profitable. Image is a difficult metric to measure. Profit is not. He and GE failed on the profit metric.
The third point about terrible management policy decisions comes down to one critical mistake. While Immelt and others in GE made many mistakes over the years, it was their huge buyback of GE stock the last few years that put the company into a distressed capital structure.
While Immelt supported share buybacks, he was encouraged by investor Nelson Peltz of the Trian Fund. According to reports in October 2015, Peltz bought 98.5 million shares and wrote a white paper on GE that stated:
Trian recommends that management explore share repurchases beyond GE's initial guidance; we believe there is an opportunity to return over 40% of the current market cap to shareholders by the end of 2018"
Peltz is a myopic investor, in my opinion, who is only interested in near-term stock price performance and does not look long term. I am strongly against this style of investing for a company like GE.
GE repurchased $21.4 billion shares in 2016 and even continued buying in early 2017 for another $2.6 billion. They currently have over $84.9 billion of common stock repurchased in their treasury, which reduces balance sheet shareholder equity to $73.5 billion compared to over $108.5 billion in long-term borrowings. (Plus other long-term obligations.) They increased leverage instead of being prudent in paying down debt with the proceeds from the sale of the Capital Group.
Leverage killed financial institutions in 2008 and 2009. Leverage also killed many of their energy sector customers in 2015 and 2016. You really have to wonder what Immelt and Peltz were thinking. Trian has lost a fortune on their GE investment, and according to the recent 2018 proxy, it seems that Trian now owns 70.9 million shares.
Africa - The "New China Play"
Africa could become the "new China" as a market for infrastructure development and advanced consumer products, but they need electricity first. GE is positioned to be the leader to create the needed electric power grid in these African countries. While Sub-Saharan population of 1.05 billion is less than 1.42 billion in China, the population is growing at 2.69% versus 1.61% in China.
The World Bank wrote an in-depth study, Africa's Power Infrastructure, on the need to develop the electrical power industry in Africa.
Power Generating Capacity Per Country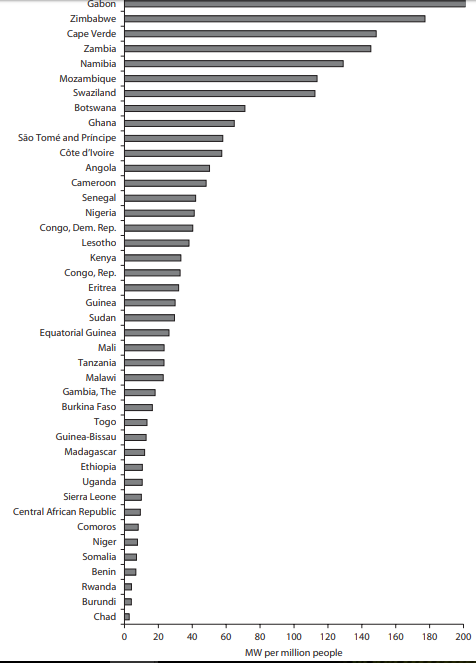 Many of the African countries are not easy to do business with and deals often fall apart. GE is part of a consortium to build a $3 billion 60,000-barrel-a-day refinery in Uganda after two other group's proposals failed over the last three years. Part of the problem in many African countries is how to deal with corruption and payment of bribes to get projects completed. These bribes are often hidden behind "consulting" fees or legal fees.
The number of power projects has been erratic over the years
Independent Power Projects (Sub-Sahara Africa Excluding South Africa)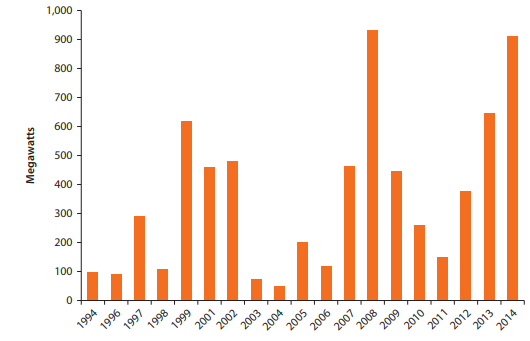 Source: World Bank Study-Independent Power Projects
President Obama placed sharp restrictions on U.S. financing of coal fired power plants overseas, but President Trump reversed Obama's restrictions. I have not seen any new announcements of U.S. financing for coal-fired power plants after this reversal. In general, other G-20 countries have talked about curbing new coal based power plants, but their actions show a different story.
GE is positioned to build traditional power plants and also an electric grid based on renewables in African countries. Last year, for eample, GE announced it will sell turbines to a 400 MW power plant in Ghana that will use liquefied petroleum gas.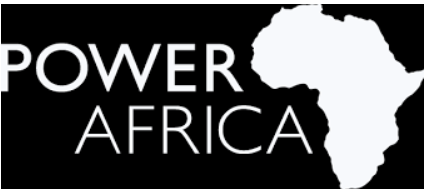 There is a huge gap between how much capital will actually be spent each year to electrify Africa and how much needs to be spent. The World Bank asserted that the "power infrastructure investments required is substantial, estimated at US $40 billion every year" in the already cited World Bank study.
I recommended buying Siemens AG (OTCPK:SIEGY) in an article for a few reasons including my long-term opinion on Africa. Some SA readers thought that GE was in a stronger position than Siemens to gain from Africa, but at that time SIEGY was clearly a better investment because it has gained 22% since my article was published and GE has declined 56%. While I still hold SIEGY, GE is currently now so low that it is a cheaper way to play the Africa concept.
Recent Accounting Adjustments
The accounting change (ASC 606) for revenue recognition in contracts with customers is not some unexpected event. This change has been in the works for years. (The Financial Accounting Standards Board has a complete analysis of this new standard.) Actually, GE is adopting the new standard a year early. Public companies are required to use the new standard for fiscal years starting after December 15, 2017, but are permitted to use it for fiscal years starting after December 15, 2016. The tax law adjustment, however, is a new item. Many companies have also reported various charges related to this new law. There could be further tax related adjustments as the IRS and tax courts give better clarification on this complex tax law
Adjustments From An 8-K Filed April 13
img src="https://static.seekingalpha.com/uploads/2018/4/15/4193841-15238145892580848.png" width="640" height="160" data-width="640" data-height="160" data-og-image-twitter_small_card="false" data-og-image-twitter_large_card="false" data-og-image-twitter_image_post="false" data-og-image-msn="false" data-og-image-facebook="false" data-og-image-google_news="false" data-og-image-google_plus="false" data-og-image-linkdin="false"">

>
Diluted 2017 EPS were adjusted to a loss of $0.99 per share from a loss of $0.68 and revenue was reduced to $118.2 billion from $122.1 billion.
The Newly Adjusted 2017 Results By Sector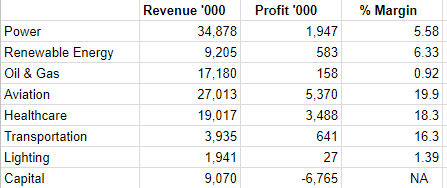 Near Term Vs. Long Term
Yes, GE faces many near-term problems: there is a SEC investigation; they will mostly have to pay billions more to cover an insurance liability; the dividend could be cut further; there is a large under-funded pension liability; potential for bond ratings cut; and the capital group still holds a number of toxic assets that may need to be written down/off. My buy recommendation on GE is based on a 20- to 30-year outlook - not short-term problems.
In the early 1980s, I was a major buyer of Colgate-Palmolive (CL) (I already had owned CL for years) based on the concept that consumers in developing nations would be buyers of Colgate products as their incomes and standards of living increased. At that time, many of my associates strongly disagreed with buying CL because it had a lot of issues and was losing market share in the U.S. to competitors. Colgate also had purchased many companies over the last 15 years that became major problems. Now, Colgate's stock is up almost 100x, adjusting for splits, since then without even factoring in their dividends. (I would not currently recommend buying CL, but I still hold my positions.)
Conclusion
Immelt and Peltz caused a near-term serious financial strain for GE by repurchasing GE's stock with proceeds from the sale of assets instead of reducing leverage by paying down liabilities. I bought GE's stock last week as investors drove the price lower because they worried about the expected filing of adjusted financials on April 13. The lower stock price gives investors the opportunity to buy GE as a long-term investment that will benefit from the "new China" play - Africa.
I consider GE a long-term buy especially suited for IRA accounts.
Disclosure: I am/we are long GE,CL,SIEGY.
I wrote this article myself, and it expresses my own opinions. I am not receiving compensation for it (other than from Seeking Alpha). I have no business relationship with any company whose stock is mentioned in this article.
Additional disclosure: I have been associated with advisory and consulting agreements with GE over the years, but none within the last seven years.
Source : https://seekingalpha.com/article/4163393-one-critical-issue-makes-ge-strong-buy
1993