Real Estate Weekly Review
Following one of the worst weeks for stocks since the financial crisis, US stock indexes bounced back this week, highlighted by a 5% jump the day after Christmas. The S&P 500 (SPY) gained 3% on the week and the Nasdaq (QQQ) gained 4% after briefly dipping into "bear market" territory on Monday. US consumers appear to have largely shrugged off the pre-Christmas stock market volatility as holiday retail sales data beat expectations according to spending data from Mastercard (NYSE:MA). Hints of progress on China/US trade talks, along with seasonal stock-buying demand, and a continued retreat in global interest rates helped support US markets on another volatile week.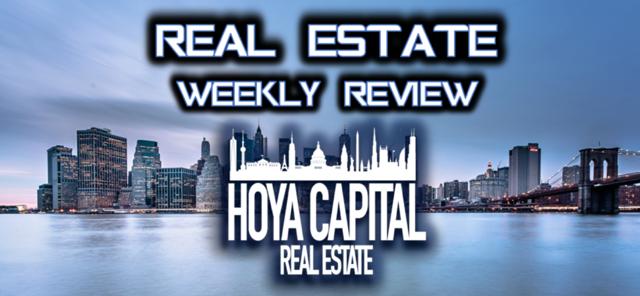 >
REITs (VNQ and IYR) finished the week essentially flat, giving back some of their recent outperformance relative to the broader averages. Retail and growth-oriented REIT sectors performed well while the more defensively-oriented residential REITs (REZ) underperformed on the week. Residential REITs, however, are set to outperform the broader REIT average yet again in 2018, as they have over nearly every recent measuring period.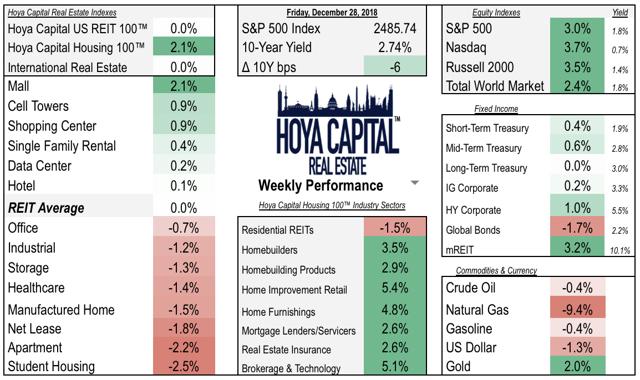 >
(Hoya Capital Real Estate, Performance as of 4pm Friday)
The Housing 100, a stock index that tracks the performance of the US housing industry, finished the week higher by roughly 2% despite the dip in the residential REIT sector. Homebuilders (XHB and ITB) delivered a strong week, as did the home improvement, home furnishings, and brokerage and technology sectors. Zillow (Z), At Home (HOME), Wayfair (W), Overstock (OSTK), RE/Max (RMAX), Toll Brothers (TOL) and Home Depot (HD) were among the top-performing components in the Housing index.
Real Estate Economic Data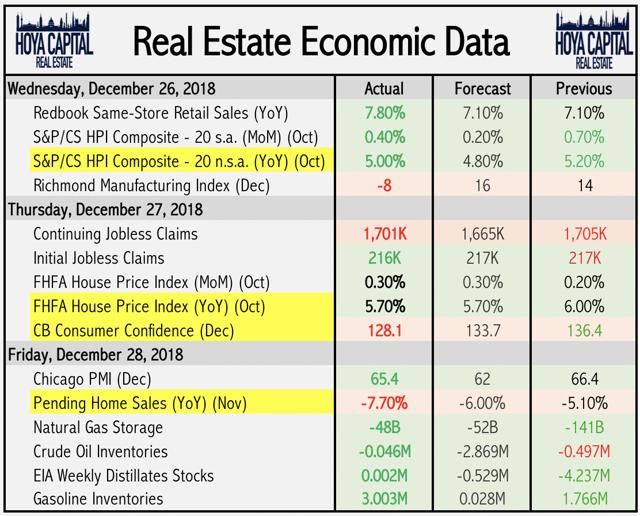 >
(Hoya Capital Real Estate, HousingWire)
Santa Delivered Strong Holiday for Retailers
Santa appears to have been quite generous this holiday season. Amid the stock market sell-off in the weeks leading up to Christmas, there was fear that Wall Street pessimism would bleed through onto Main Street consumers and derail the holiday season for retailers. The early spending data, however, indicates that this holiday season was in line or slightly better than expectations following a record year in 2017. According to Mastercard SpendingPulse, US retail sales grew 5.1% this holiday season, the strongest growth in the past six years, led by a resurgence in apparel retail sales (+8%), continued strength in the online categories (+18%), and solid growth in the home improvement (+9%) and furnishings sectors (+2%).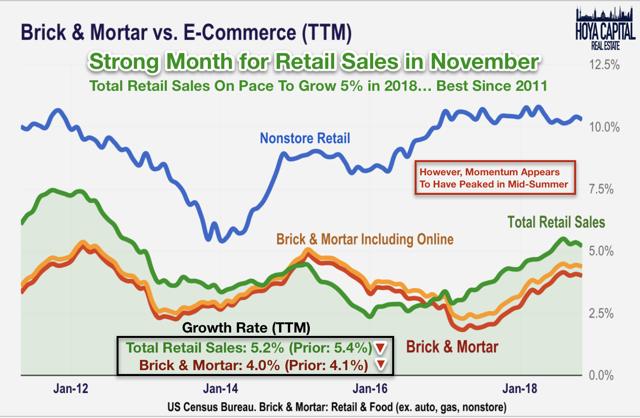 >
In our report on the mall sector, we noted that Simon reported a solid 2% rise in foot traffic over the Black Friday weekend, while FirstData recorded 6.1% growth over the Black Friday weekend and has noted a 2.9% overall rise in total retail sales through December 21. November retail sales data from the Census Bureau confirmed these early strong results, as generally sales topped estimates for the month. While sales momentum does appear to have peaked in mid-summer, 2018 is still on pace to be the strongest year for sales since 2011. On a trailing twelve-month basis, total retail sales have risen 5.2% while brick and mortar sales have grown a solid 4.0%. While online sales (nonstore retail) continue to grow at a steady 10-11% clip for the last three years and have taking some incremental market share from physical locations, the recent resurgence in brick-and-mortar retail sales seems to have proved the resilience of the physical storefront.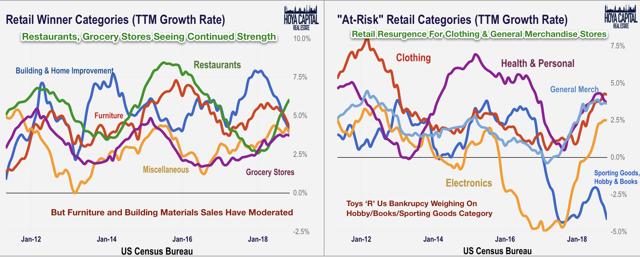 >
So far, the recent stock market volatility and signs of softness in the housing market have not translated into significant headwinds to consumers' spending appetite. Working to the favor of retailers is the recent plunge in oil prices, which is beginning to translate into lower prices at the pump. Gas prices have declined nearly 60 cents per gallon, on average, since the start of October, with further declines expected based on past correlations with oil prices.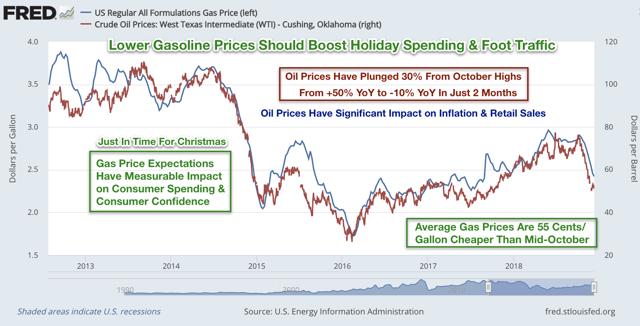 >
Home Price Appreciation Continues to Moderate
The rate of home price appreciation continues to moderate, impacted by higher mortgage rates and the lingering effects of tax reform on high-tax coastal markets. Single-family home prices are rising at the slowest rate since early 2017 across most home price indexes with further moderation expected into 2019 given the continued affordability headwinds following several years of above-trend growth. The Case Shiller National Home Price Index slightly beat expectations in October, rising 5.0% compared to the 5.2% consensus estimate and slower than the roughly 6.5% rate achieved in early 2018. The FHFA and Zillow indexes have also noted moderations in HPA of a similar magnitude.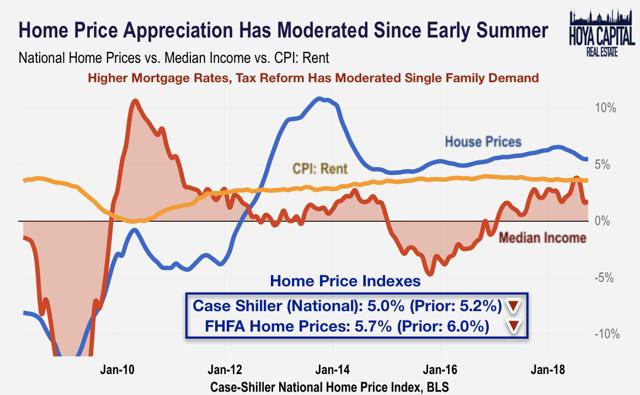 >
Home prices have risen at least 4% on year-over-year basis in every month since late 2012, a streak that may be broken in 2019 if recent softness continues into the new year. The combination of rising median incomes and moderating home price appreciation should be good news for millennials who plan on entering the ownership markets within the next decade. Home prices are now 14% above prior peak 2006-levels on a nominal basis, but still 5% below peak levels after adjusting for inflation.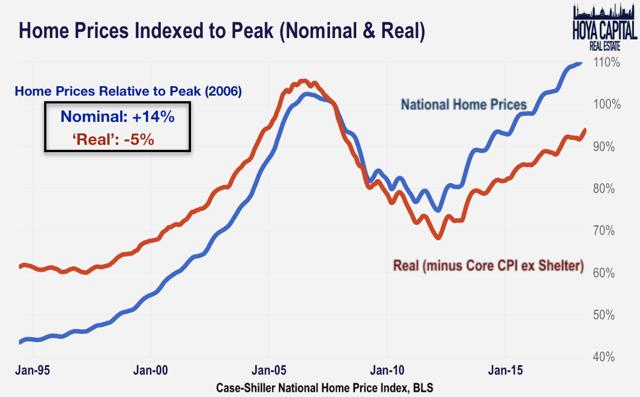 >
As we continue to discuss, the current dynamics of the US housing market share few similarities with the "housing bubble" period of 1995-2005. Most notably, there is acute lack of housing supply, a result of a period of significant under-building during the post-recession period and strong demand from an abnormally large generation of millennials entering the housing markets. We believe the implications of this lingering shortage will be a persistence in "real" home price appreciation and rents above the rate of inflation, as the supply/demand imbalance equalizes over the next 10-15 years.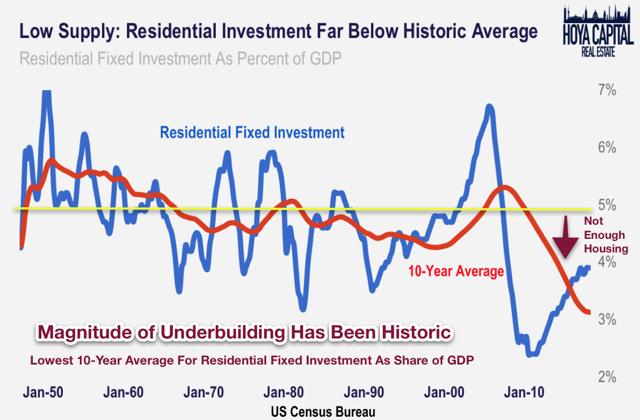 >
As a whole, households are also significantly less levered to the housing markets as in the mid-2000s. Adjustable rate mortgages, generally those most susceptible to higher interest rates, have accounted for less than 5% of all originations since 2009, down from as high as 42% in 2005. Even more importantly, homeowners are no longer using their home as a credit card. Home equity line of credit (HELOC) balances have been cut in half since the peak of the bubble and have been on a continuous decline since 2009.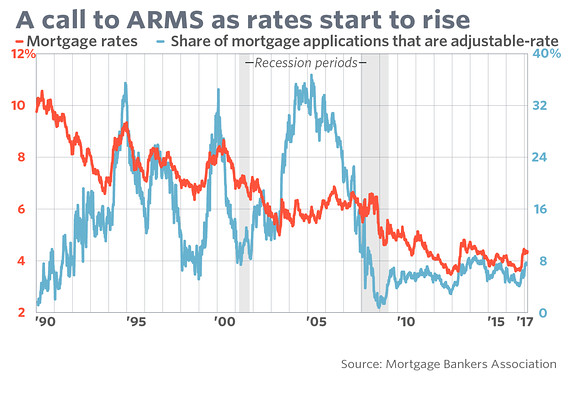 Pending Home Sales Miss Estimates, New Sales Delayed
As a result of the government shutdown, the release of new home sales was delayed this week, but pending home sales data was released on schedule by the NAR. Pending sales, a leading indicator of the more closely watched existing home sales data, missed estimates in November and are now lower by 7.7% on a seasonally-adjusted basis from last year. On a trailing twelve-month basis, pending home sales are now lower by 2.7%, while new home sales remain positive by 5.2% in the last reading.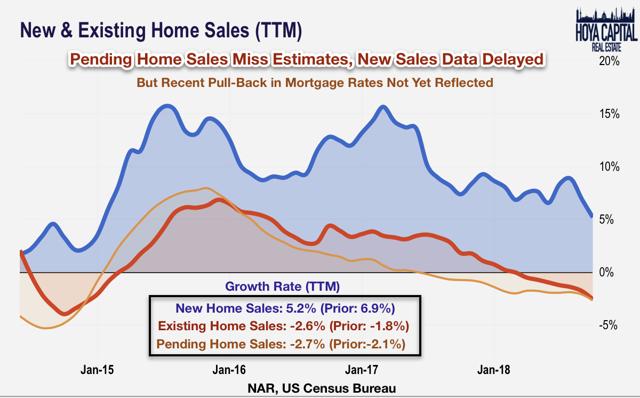 >
NAR Chief Economist Lawrence Yun noted that this data does not yet reflect the recent pullback in mortgage rates from multi-year highs reached in November. At around 4.5% on the Freddie Mac index, the 30-year mortgage rate has retreated roughly 40 basis points and is back down to mid-2018 levels before the recent leg higher that began in September, which had been blamed for the rapid softening in many single-family demand metrics over the past three months.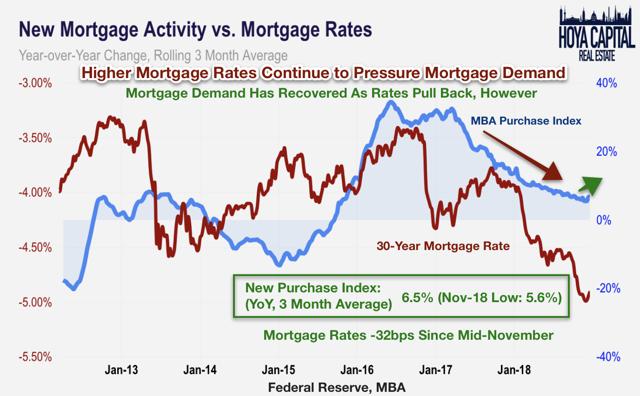 2018 Performance
REITs are now lower by 9% YTD on a price basis, underperforming the 7% decline in the S&P 500. Homebuilders are off by more than 30% after rising more than 50% last year. The Housing 100 has also underperformed the S&P 500, weighed down by declines in the homebuilding products and brokerage and technology sectors, but supported by solid performance from residential REITs. The 10-year yield has climbed 34 basis points since the start of the year, despite the 21% decline in the price of crude oil and the 3% gain in the US dollar.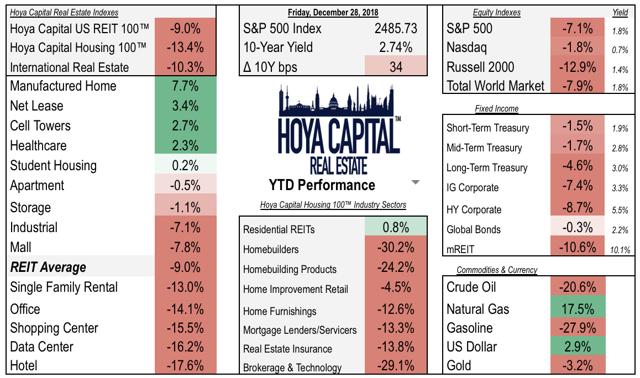 >
REITs and housing-related equities have outperformed the broader US stock market over the last 25 years. The NAREIT All-Equity REIT Index has delivered a 12.1% average annual return while the Fidelity Construction & Housing Fund (FSHOX) has delivered a 10.8% annual return since 1994. The S&P 500, meanwhile, delivered a 9.9% annualized rate of return during this period.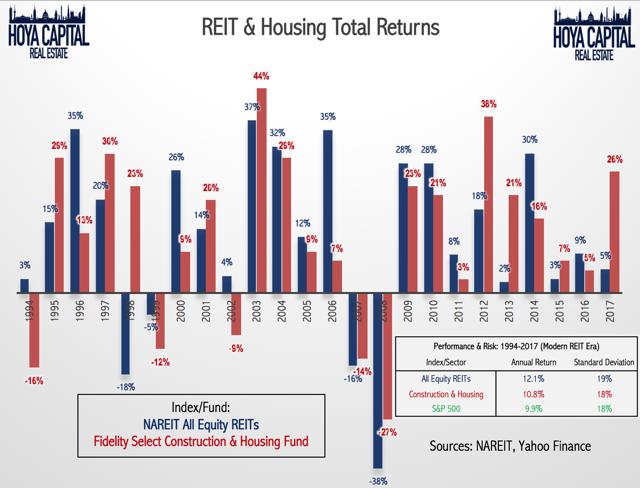 Bottom Line: Santa Claus Rally Boosts Stocks
Better late than never for Santa's arrival. On a wild week for US markets, stocks halted the pre-Christmas skid that had sent major US benchmarks into bear market territory. Following positive holiday retail sales data and hints of progress on China/US trade talks, the S&P 500 jumped 3% on the week as global bond yields continue to retreat.
REITs ended the week exactly where they started, but housing-related industries delivered a strong week despite mixed housing data, highlighted by homebuilders, home furnishings retailers, and real estate brokers. Pending home sales unexpectedly fell in November as higher mortgage rates and taxes continue to weigh on single-family demand. New Home Sales data was delayed by the government shutdown. The rate of home price appreciation continues to moderate as pockets of weakness emerge in once-hot markets. With low inventory and rational credit conditions, the outlook for 2019 remains stable.
For an in-depth analysis of all real estate sectors, be sure to check out all of our quarterly reports: >Net Lease, >Data Center, >Manufactured Housing, >Student Housing, >Single-Family Rentals, >Apartments, >Cell Towers, >Manufactured Housing, >Malls, >Shopping Centers, >Hotels, >Office, >Healthcare, >Industrial, >Storage, and >Homebuilders.
Disclaimer: All of our published commentary is for informational purposes only, always provided free of charge. Commentary is purely theoretical and not intended as investment advice. Information presented is believed to be factual and up-to-date, but we do not guarantee its accuracy and it should not be regarded as a complete analysis of the subjects discussed. An investor cannot invest directly in an index and index performance does not reflect the deduction of any fees, expenses or taxes. Data quoted represents past performance, which is no guarantee of future results. The information presented does not reflect the performance of any fund or other account managed or serviced by Hoya Capital Real Estate. Please consult with your investment, tax or legal adviser regarding your individual circumstances before investing. For complete disclosure, view our profile via the link above.
Disclosure: I am/we are long XHB, VNQ. I wrote this article myself, and it expresses my own opinions. I am not receiving compensation for it (other than from Seeking Alpha). I have no business relationship with any company whose stock is mentioned in this article.
Source : https://seekingalpha.com/article/4230629-santa-delivers-post-christmas-rally-stocks-real-estate