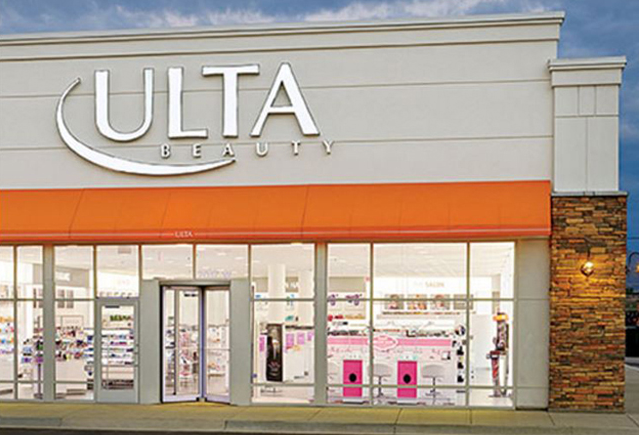 Ulta gets its groove back
Ulta Beauty (NASDAQ:ULTA) has been a high-flyer in the retail sector for some time. The stock was dreadfully expensive for years as it eventually ran up to $315 in mid-2017, but since that time, investors have seen less projected growth for the company. I've been bullish on Ulta on a valuation and growth basis since the stock crumbled, and while there have been some stops and starts in the share price, following the Q2 earnings report shares are flying again and have made new relative highs. Still, given where Ulta is today with its store growth and other factors, I think it is a buy despite the rapid increase in the price of late.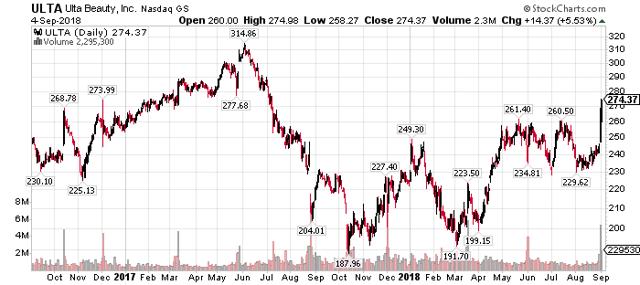 >
A differentiated model and track record of growth
When looking at Ulta, it was never a matter of whether or not the company would continue to grow. Ulta has produced some of the most ridiculously strong comparable sales numbers I've ever seen in my years covering retail stocks, and in particular, when you consider how large the company is.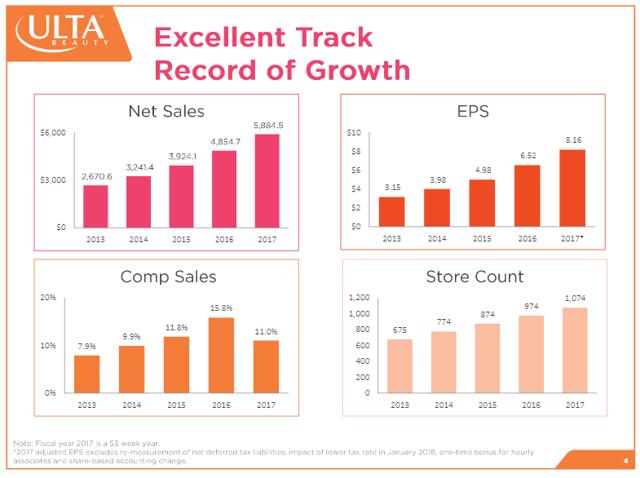 >
(Source: Investor presentation)
This slide shows a snapshot of how much Ulta has grown in the last few years, as it has nearly doubled its store count, produced torrid comparable sales growth, more than doubled total sales and more than doubled earnings per share. Growth like this doesn't come around often, and Ulta is certainly a special company.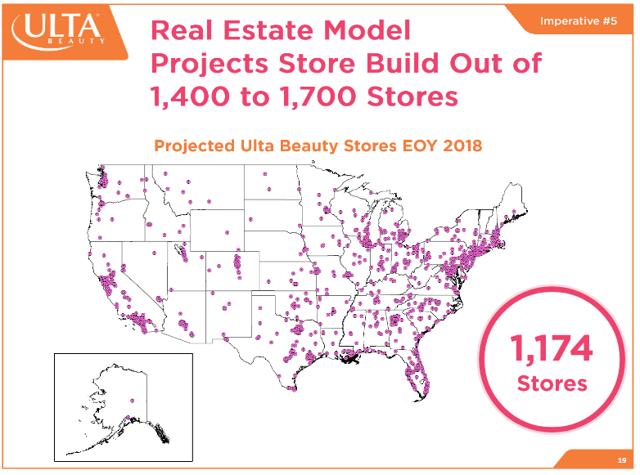 >
(Source: Investor presentation)
In addition, Ulta is at less than 1,200 stores today, but plans to ultimately build out between 1,400 and 1,700. We can see from this map that there are plenty of areas within the US that haven't been touched by Ulta yet, and given the immense profitability of new stores, I have to think the number will be closer to 1,700, or even more if the company sees potential. In addition, there exists the possibility to expand into Canada or Europe, as examples. The point is that while Ulta is a huge retailer, it isn't anywhere near done growing its footprint.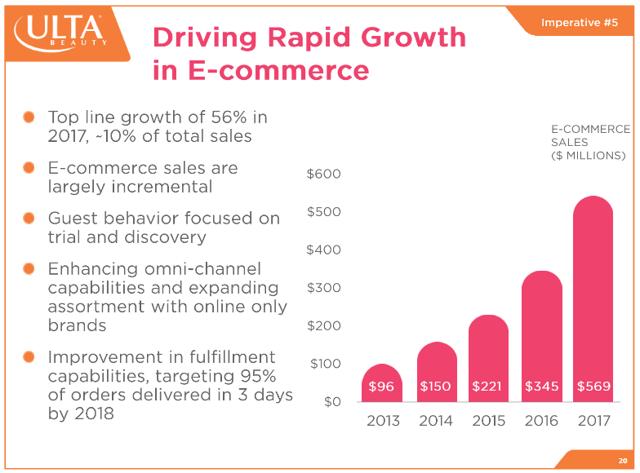 >
(Source: Investor presentation)
In addition to store growth, the company's e-commerce channel has been growing at almost unbelievable rates. Sales through that channel continue to be a small portion of total sales but are growing rapidly, adding 56% in 2017. The sales pace for this year isn't quite that good, but in Q2 it was 38%+. Ulta is spending money to build out its delivery and fulfillment capabilities to support this growth, and this is sure to be a primary growth channel for years to come.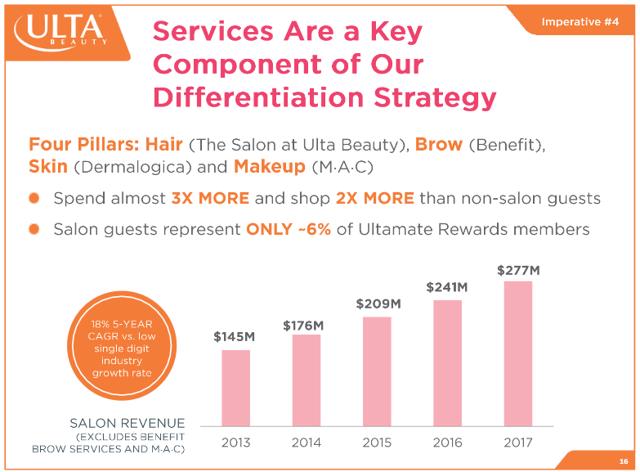 >
(Source: Investor presentation)
Apart from simply selling makeup, Ulta is building out its in-store experience as well, driving traffic to its salons. The company has recognized that these customers visit more frequently and spend more money than non-salon guests, and as we can see, salon revenue is a small fraction of total revenue at just ~5% but is growing nicely. Even after the store base is built out, I suspect salon revenue will continue to be a driver of comparable sales gains down the road. This is a key differentiator for Ulta, and the success of the salon business so far is undeniable.
Another great quarter
The second quarter was yet another stellar one in what has become the norm for Ulta Beauty. Total sales were up 15.4% on comparable sales of 6.5%+ and a contribution from new stores. The comparable sales gain was comprised of roughly equal parts of traffic and average ticket gains, something that has been true of Ulta for a long time. The retail business compared at 4%+, while the e-commerce business gained 37.9%.
Gross margins fell during the second quarter due to mix shifts as well as investments in the salon business and the supply chain. The 40 bps decline in gross margins was part of the reason for operating margin declines, which were helped along by a 70 bps deleveraging in the SG&A rate. That line item increased because of higher store labor costs, but was partially offset by lower corporate expenses. In total, operating margin fell from 14% of revenue to 13% in Q2 - a sizable loss, but one that isn't entirely unmanageable for Ulta. The loss in SG&A leverage was due primarily to store labor investments to support growth, so that should be impermanent. Mix shifts in product assortment happen on a regular basis, so I'm not concerned by that unless gross margins continue to fall. For now, the company remains very profitable and continues to grow rapidly.
Partnership with Kylie Jenner offers more growth potential
There is also the matter of the new partnership with Kylie Jenner to sell her products in Ulta stores. The wildly popular cosmetics brand has the potential to produce some incremental growth for the company, while details at this point are a little unclear. However, Kylie Jenner's products have sold tremendously well, and thus, if current customers begin shopping at Ulta stores, which seems like a reasonable assumption, it could drive additional traffic to the salon, in addition to driving those customers to potentially buy other products at Ulta. This is a terrific form of advertising for the company and has the potential to drive the next leg of comparable sales growth.
The stock is still reasonably priced
Estimates are for Ulta to make about $11 in EPS this year, putting the valuation right at 25 times earnings. Prior to the huge run-up we've seen in the past few days, Ulta was significantly cheaper, and I wouldn't suggest chasing the stock right this second. However, even at 25 times earnings, I think it represents decent value. The company continues to grow earnings in the 20%+ area year after year, and has guided to do so again this year. With more store expansion coming, as well as other growth levers discussed here, I have no reason to think that level of growth will abate anytime soon.
Given that the stock is trading for a price-to-earnings-growth ratio of just over 1, I still think Ulta has a lot of upside potential. The market is finally realizing the stock was far too cheap after the declines of 2017 and it is still one of the best pure-growth stories in retail. I suggest investors take a look at Ulta, as this growth story is far from over.
Disclosure: I/we have no positions in any stocks mentioned, and no plans to initiate any positions within the next 72 hours. I wrote this article myself, and it expresses my own opinions. I am not receiving compensation for it (other than from Seeking Alpha). I have no business relationship with any company whose stock is mentioned in this article.
Source : https://seekingalpha.com/article/4204386-ultas-growth-far