WEEKLY WRAP UP  January 22, 2018
Compiled by Alan Hitchcock form OUInsider, CBSsports and 247Sports staff reports.
.
New Face Joins Sooners Staff . . .
Last Monday (WW) we reported that
>

would add former Texas S&C Bennie Wylie, who would most likely take Jerry Schmidts' place as OU's Strength and Conditioning Coach. It took 30 hours for the announcement from OU to confirm and now Wylie is hard at work on the job, already coordinating the six weeks leading up to the start of spring drills.
"There's nobody in the business I respect more than Bennie Wylie," said Riley on Tuesday, "and I knew that if I ever had a strength and conditioning opening that I'd love to reunite with him. We had a lot of years together at Texas Tech, and during that time I was able to watch his work and see the impact he had on our players both physically and on their lives overall.
"He's a great motivator as well as a very, very knowledgeable strength coach. And he brings a really unique approach in that he does a lot of the workouts with his guys; kind of goes through the same tough things that they do. Plus, he just has a unique gift of bringing the best out of people.
"This is certainly an important position, and I think we just hired the best person in the country."
Wylie also worked for the Dallas Cowboys under former OU strength and conditioning Coach Joe Jurazek after his graduation from Sam Houston State where he was the starting running back for the Bearkats. After Dallas, Wyle ended up in Lubbock, where he met
>

and Ruffin McNeal and then on to the University of Tennessee for one year before joining
>

at Texas where he served for three years, ending when Brown was terminated at UT.
"I'm incredibly excited for this opportunity, especially considering I'm only the fifth strength and conditioning coach in the history of this great football program," Wylie said. "That means we've been doing it right for a long time, and we're going to continue to do it right."
.
Coaches Wrapping Up ST2K18 . . .
While eight new Sooners began taking classes last week, the coaching staff concentrated on wrapping up the 2018 class and targeting top juniors for 2019.
spent Wednesday visiting with four-star "Jack' linebacker prospect

>
(6'2, 221) of Ft. Lauderdale (American Heritage) Florida. All indications are that the visit went great with Chatfield and OU remains in the hunt for the talented outside backer but the Sooners must sweat out Chatfield's visit to Florida which wrapped up yesterday (Sunday).
Omar Ojomo (6'3, 275) of Katy, Texas who admits that he and his family had a great time in Norman last weekend and the Sooner staff followed that up with an in-home this week. Ojomo visited Notre Dame this weekend and we could get an idea of just how much the Irish influenced him and if he still intends to visit Oregon on Feb 2nd.
On Tuesday A&M coaches showed up at the home of OU commit

>
(6'1, 222) unscheduled and unannounced and Coach
>

retaliated with a scheduled in-home on Thursday with
>

before heading off to Georgia and Florida.
>

followed up on
>

(6'3, 325) official to OU last week with an in-home visit in Montgomery, Alabama. Jenkins, who following his visit last weekend said that OU is his leader, headed off to Louisville this weekend. Coach Bedenbaugh also spent time in Texas and Florida last week scouting 2019 and 2020 talent.
Receiver Coach
>

has been down in Texas visiting with OU wide receiver commit Treveon-Johnson (6'1, 175) of Brenham, Texas, but that didn't stop Johnson from visiting Arkansas this weekend. Simmons also made a stop-over in Richmond, Texas to watch 2019 five-star
>
>

(6'1 179, 4.5) play basketball before heading to St. Louis.
Meanwhile ace recruiter
>

was surveying 2019 and 2020 talent in the DFW metroplex.
Coach Thibodeaux was in St. Louis preceding the official visit to OU by four-star DT >
>

(6'3 1/2, 291) of St. Louis Parkway North. Thompson, the nation's No. 2 ranked DT, has been a long time lean to Missouri, but with his best friend >
>

already enrolled in Norman, the Sooners have surged into a virtual tie with Mizzou. Coach Thibs ended the week checking out 2019 and 2020 talent in Dallas and Ft. Worth.
The Sooners are trying to get in on the nation's top ranked JUCO strongside defensive end

>
(6'3, 260) of Florence (West Florence), South Carolina and College of the Canyons but he currently has a full dance card and would have to cancel a visit to Ole Miss on the 26th or to Florida on February 2nd.
,
Recruiting Milestones . . .
Here at OUInsider we've talked among ourselves how
>

has energized the entire program, including breathing some new life and enthusiasm into recruiting. Certainly
>

had a big hand in recruiting the 2018 class, but Riley has seemingly upped the overall level of prospects.
For only the second time since 2011, the Sooners will close their class with a pair of five-stars, as the final 247Sports update added two OU signees to the top ranks as both offensive tackle>
>

and defensive end>
>

both earned a fifth star in the last 247Sports rankings released this week. Walker comes in at No. 15 nationally, while Redmond is just behind at No. 16 in the Top 100, where the top 32 recruits nationally are given the five star rating.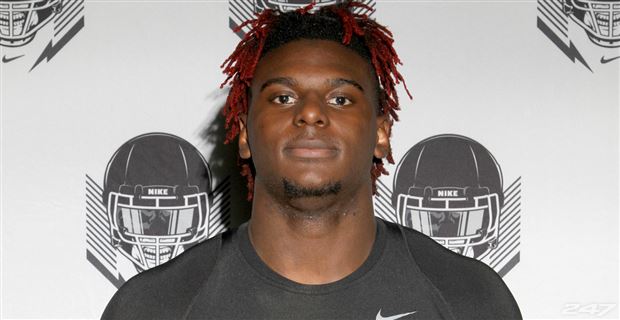 The Sooners have signed only four five-stars total since 247 began releasing individual rankings in 2010, running back>
>

, in 2014, and safety>
>

, last year, serve as the other two. But the overall recruiting goes much deeper than the two 'five star' ratings. In addition to Walker and Redmond, several other Sooners found their way into the Top 100, with 'Bookie'>
>

checking in at No. 46, (and a ;five star' rating according to Rivals), defensive ends>
>

at Nos. 56 and 57, respectively. Others in the Top 247 included outside linebacker>
>

at No. 125, athlete>
>

No. 179, running back> T.J. Pledger No. 185 and outside linebacker>
>

at No. 207.
OU has the nation's No. 7 class, per the 247 Composite Team Rankings, but has a chance to move higher with several top ranked recruits seriously considering joining Riley's 2018 class, including: DT
>

, (No. 59); S Leon O'Neal, (No. 81); LB Solomon Taliaupupu (No. 92); DE
>

, (No.211 ) and OG
>

, (No. 249).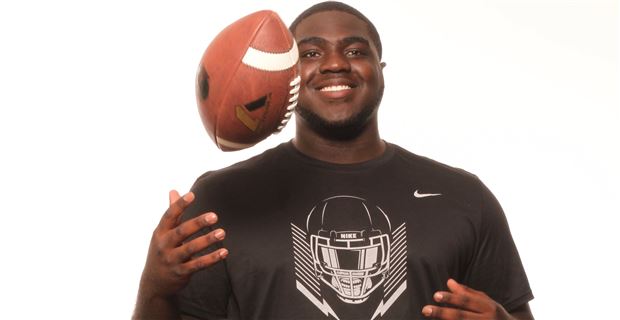 But Riley's influence goes deeper than the current class. Next year's class (2019) currently holds the No. 3 ranking nationally and the early rankings for 2020 have the Sooner class at No. 2 nationally.
The OU staff in the Stoops era had an accomplished record. But
>

came from Florida where recruiting classes did not get fully filled until late in the game, and some of that philosophy carried over to his tenure at Oklahoma with the staff preferring to evaluate early and offer late.
When
>

joined the staff in January of 2015 he replaced
>

, who was not known for making early offers to quarterbacks, often waiting until late in their junior year to offer. But Riley quickly changed that, going after
>

as a sophomore and current 2019 QB commit
>

after his freshman year. Things have changed in recruiting, as timelines have moved up, but you can bet that Heupel would have never offered a high school freshman at quarterback.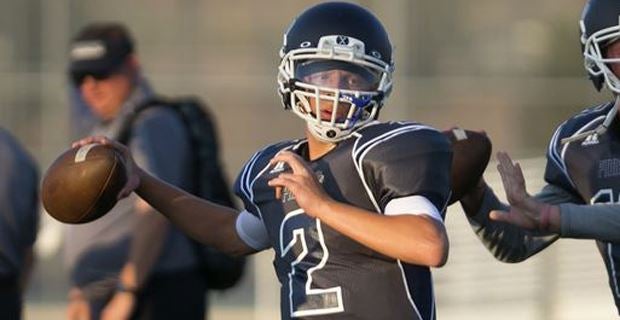 Riley's staff now has a green light to go after the best early, and too, Riley has put together a recruiting staff with a great knowledge of social media. The combination of both appear to be paying dividends.
.
Joe C - BMOC (Big Man on Committee) . . .
OU athletic director Joe Castiglione will join the College Football Playoff selection committee as one of its six new members of the 13 member College Football Playoff committee that is charged with selecting the four best teams to play for the National Championship.
Committee members each serve a three-year term and six current members expire this month: Texas Tech athletic director Kirby Hocutt, Clemson athletic director Dan Radakovich, former USA Today reporter Steve Wieberg, former Arkansas athletic director Jeff Long, former coach Tyrone Willingham and former NCAA executive Tom Jernstedt.
There are five different classifications of members: people with experience as (1) coaches, (2) student-athletes, (3) administrators, (4) journalists and also (5) sitting directors of athletics. Members of the media must be retired.
Committee members are allowed to discuss schools that they may be affiliated with, but are not permitted to vote on their ranking during the five week long process when committee members meet in Dallas each Tuesday beginning in late October and rank the Top 25 teams based on their on-field performance. The process requires each member to state why he believes each of his 25 teams teams should be ranked compared to their peers, regardless of current 'poll rankings'.
Castiglione, who has recently been named as the Nation's Top AD, will certainly have the respect of the other twelve members and he should lend a credible voice to both the Big 12 and to the strength of schedule arguments that discourage credits for wins over Division II opponents.
.
Mayfield Keeps Adding Hardware, and Headlines . . .
>

continues to make headlines, even when he doesn't want to. On Thursday evening, Mayfield had two headlines, one, winning the Manning Award as the nation's top quarterback and then, when Miami Dolphins wide receiver and former Sooner
>

made a live appearance on Instagram, but Mayfield stole the show with a comment that appeared on the screen saying: "Get me to Miami (Dolphins)" - which was immediately reported by both Sports Illustrated and the New York Times that Mayfield had 'chosen' Miami as a preferred NFL destination.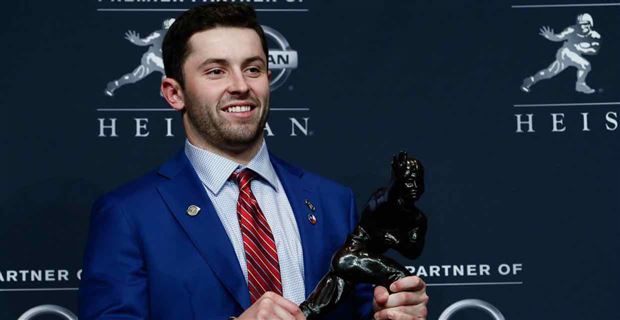 However, Mayfield, who was surprised that media sources had reported that he had a preferred destination, took to Twitter to set the record straight.
"Just so everybody knows... I commented about playing for Miami because I was talking to a former Sooner in
>

. Everybody can relax, I will play anywhere that gives me a chance. I'm not picky, I will go anywhere and strive to uplift a franchise and win ball games."
Other finalists for this year's Manning Award were: Ohio State's J.T. Barrett, Clemson's
But Manning said he was totally convinced that Mayfield was easily the most appropriate winner of this years' Manning Award.
"We're all crazy about Baker and thoroughly enjoyed his career," Manning said. "He plays the game with passion . . . That's why he's been successful, I think that's why he'll continue to be successful."
On top of the Heisman Trophy Mayfield has earned three other major national awards in 2017: the Maxwell, O'Brien and Walter Camp Player of the Year -- in addition to being named the AP Player of the Year and taking the Earl Campbell Award for the top college player from the state of Texas. He was also a two-time Sporting News Player of the Year (2015, '17) and two-time Burlsworth Trophy winner (2015, '16).
Source : https://247sports.com/college/oklahoma/Article/Lincoln-Riley-Bennie-Wylie-Joe-Castiglione-Michael-Thompson-DaShaun-White-Andrew-Chatfield-Tank-Jenkins-Arjei-Henderson-Jalen-Redmond-Brey-Walker-Brendan-Radley-Hiles-Ron-Tatu-114042853/