It took energy and institutional imagination to fix TV for kids. Where will that come from today? Who will pay for the research and, later, the production? How would or could YouTube implement any kind of blanket recommendation?
I worry about these questions a lot, and I wonder if our 21st-century American institutions are up to the challenges they've created with their market successes and ethical abdications. Even so, when I visited Chennai, I felt okay about the media future we're heading into. The toddler videos that ChuChu is posting on YouTube are cultural hybrids, exuberant and cosmopolitan, and in a philosophical sense they presuppose a world in which all children are part of one vast community, drawing on the world's collective heritage of storytelling. That's a rich narrative rootstock, with lots of lessons to teach—and right now who's better poised to make the most of it than ChuChu and companies like it, especially if they can learn from the legacy of American educational TV?
hr">
---
>
Related Stories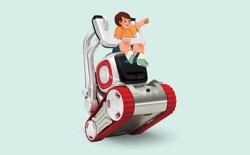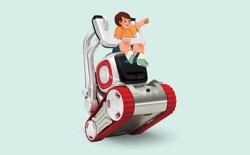 ---
ChuChu's founders aren't blind to the power of new-media platforms, or the undertow of crappy YouTube producers, or the addictive power of devices, but the magnitude and improbability of their success more than balance the scales. They don't quite seem to know why (or how, exactly) they've been given this opportunity to speak to millions from an office in South India, but they're not going to throw away the chance. After all, there are so many stories to tell.
On my last day in the ChuChu offices, Krishnan related a parable to me from the Mahābhārata, a Sanskrit epic. A prince wants to be known as generous, so the god Krishna decides to put him to the test: He creates two mountains of gold and tells the prince to give it all away in 24 hours. The prince begins to do so, parceling it out to people he thinks need it. But as the day ends he's hardly made a dent in the mountains. So Krishna calls another prince and tells him he has just five minutes to give away the gold. This prince sees two people walking along, goes right over to them, and gives each a mountain. Just like that, the job is done. The moral is unsettling, but simple: Don't impose limits on your generosity.
Krishnan loves this parable. "This is a story which I can do for ChuChu," he told me. "But with pizza."
---
This article appears in the November 2018 print edition with the headline "Raised by YouTube."
Source : https://www.theatlantic.com/magazine/archive/2018/11/raised-by-youtube/570838/
537